Business
With Mount Anvil we're building a legacy that will last
19 January 2018
We work with other housebuilders on joint ventures developments, sharing the rewards and our expertise. One of our most successful ongoing partnerships is with fellow values-led developer, Mount Anvil.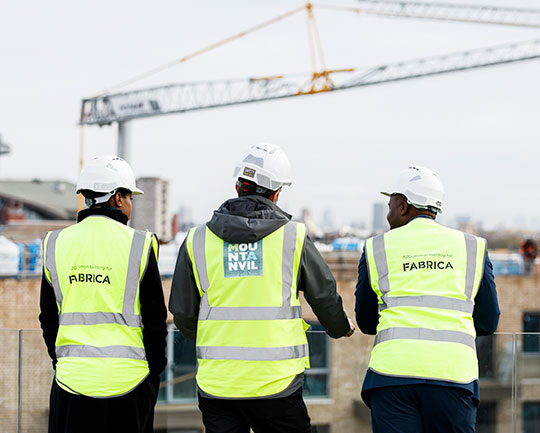 Working collaboratively helps us achieve the best results for customers and our business
"Our choice of partners comes down to trust, the relationship between the respective organisations, and a strong working relationship between members of both teams," says Nick Yeeles, Executive Director at A2Dominion. "This we have with Mount Anvil."
A2Dominion and Mount Anvil first worked together on the regeneration of London's Queen's Wharf. By working together, we share the benefits and challenges which enable us to take on projects that may not be possible on our own", says Nick. "Each development strengthens our working relationship and shows what we do and why we're the best people to do it which helps us to secure more bids."
The 165 new apartments at Queen's Wharf, which features a state-of-the-art media centre, were jointly marketed and sold by Mount Anvil and FABRICA by A2Dominion. The high-profile development with sought after penthouses complete with roof top hot tubs, went on to become a finalist for Best Large Housing Development at the 2017 Brick Awards.
Peter Gore, Production Director at Mount Anvil, says: "In our experience, it's when we work
collaboratively
that we achieve the best results for our customers and our business – and that's certainly been the case in our work with A2Dominion."
In 2014 the businesses partnered again for the redevelopment of 'one of London's ugliest buildings' the former BT international telephone exchange at Keybridge House in Vauxhall. Keybridge House represents a truly landmark project, resulting in the tallest brick-built tower in the UK, and offering 470 design-led new homes for sale, shared ownership and rent.
The partnership is doing really well and A2Dominion and Mount Anvil are looking for opportunities to work with each other again in future.
Peter Gore says, "You only work together a second time if the first is a success, you work together three or four times if things click." He comments: "And the reason we'll work together again is because our values are aligned – the desire to work collaboratively, the hunger to continuously raise the bar, and a belief in doing the right thing."
"Having the same vision for London means we've not only created much needed high-quality, mixed-tenure homes for Lambeth through Keybridge, but also landscaped public gardens with artworks and new commercial space to support new and local businesses, all fitting into the wider regeneration of Battersea, Vauxhall and Nine Elms."
Working collaboratively
Peter is right, for A2Dominion the essential elements of a partnership are a shared understanding of the desired outcomes of a project, considering a potential partner's reputation and their track record. "We look for skills and resources that complement our own," says Nick. "Standard financial and credit rating checks are undertaken to assess the financial strength of the potential partner, coupled with a risk assessment. But ultimately the most successful joint ventures are about both companies working towards the same goals."
"
When you have shared values and the same ethos, you can bring about a shared commitment to focus on the customer and what they need, including the services you provide them," says Nick. "That ethos for us is not just about providing new homes, it's about building a legacy for communities that we can be proud of."