CAREERS
Apprenticeship leads to permanent role for Sofia
25 January 2018
Our award-winning apprentice Sofia started her A2Dominion journey in October 2014 as an Apprentice Facilities Assistant, before moving her way up to the role of Leasehold Property Manager based in Ealing.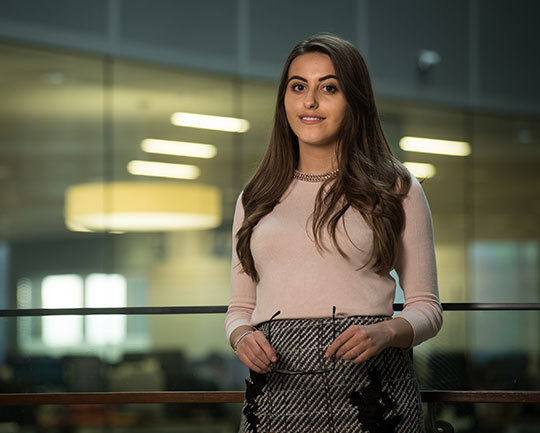 Sofia Cabral
Sofia was supported by the organisation every step of the way with training, coaching, career support and development, culminating in being awarded the Ealing Network Apprentice of the Year in November 2015. All our apprentices add real value to the team they are working in and go on to make exceptional employees, as Sofia demonstrates.
Background
A2Dominion works in conjunction with BPP Professional Apprenticeships to offer apprenticeship opportunities across the organisation as a great route into employment. Since 2012, A2Dominion has successfully recruited nine exceptional apprentices in various areas of the business. As well as developing the skills and gaining invaluable experience necessary to kick-start their career, it also allows them to study for a qualification while earning a salary.
The apprenticeship normally involves working in the office four days a week with one day of study. While a permanent job is not guaranteed, Sofia successfully completed her probation period, gained her qualification and earned a glowing performance and conduct report from her line manager, leading to opportunities elsewhere in the business.
An apprenticeship wasn't something Sofia had hitherto thought about until the opportunity arose. She said: "I had always aspired to go to university and follow the traditional path into employment. But I felt that was something I had to do to secure a good job, rather than what I wanted to do. Being an apprentice and learning on the job and get those real work skills was the best decision I ever made and wish it had been publicised more to me throughout school."
Challenges
Sofia admits to facing the challenges presented by her apprentice role head-on: She says: "It was challenging adapting to the work environment so soon after college, but I've definitely matured and grown in confidence since being here."
Another issue she feared might materialise was struggling to juggle both work and study, but it was one that needn't have caused concern. She said:
"
A2Dominion was hugely supportive throughout. I was given sufficient time to focus on my studies without having to take work home to complete. This provided me with the perfect work/life balance."
How did A2Dominion help?
Sofia is grateful for the opportunity and support offered throughout the apprenticeship. She was assigned a broad set of responsibilities and tasks to ensure she learned everything about the business and how it operates.
She said: "Working in a major operational department which provided office services ensured that every day threw new challenges at me. Not a single day was the same and it really kept us on our toes. My daily tasks included the Health & Safety audit, post and reception cover while the rest of our day was spent responding to enquires, and other individual tasks such as special projects and writing reports."
She puts her success down to her hard work and willingness to learn as well as the company's guidance: "I had a contact in the Learning & Development team throughout the apprenticeship who was there for me at all times, but also gave me the independence to let me get on with the job and the coursework for my studies. It was great to have so much trust placed in me, and you know not to abuse it.
"I've learned a lot along the way, meeting new people, establishing connections and having exposure to different areas around the business helped me gain an understanding of how the organisation is run and provided an incredible platform on which to further my career."
Sofia's success in the organisation was cemented when she won the Ealing Network Apprentice of the Year award. "It was such an achievement, as I felt A2Dominion had acknowledged my hard work and I had built my identity within the company. The reaction from my colleagues really was the icing on the cake for me; it was really fulfilling to see how delighted they were for my achievements."
Result
Sofia would recommend an apprenticeship to anyone considering it. She said: "An apprenticeship is not a second option; it is an ideal route into employment. Being an apprentice takes determination, self-motivation and hard work."
Sofia has now been in her new role of Property Leasehold Manager for six months where she manages over 400 properties and travels across London and southern England as part of her role.