Business
Partnering with award-winning architects to deliver innovative design
19 January 2018
At the heart of A2Dominion is our vision to improve people's lives through quality homes and services, and this vision is realised in part through the help of architects – delivering a legacy in built form.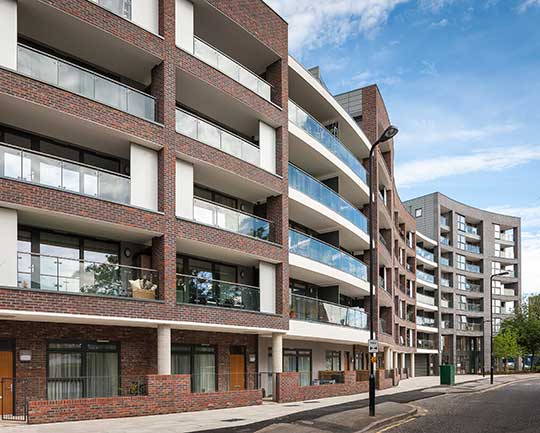 Jigsaw building designed by Conran and Partners
Where you live shapes you and the community you live in, and so we strive to ensure that at the heart of every scheme there is a great architect, not only providing technical expertise, but also honestly and tirelessly working towards the delivery of our vision.
"Whilst it is common for business to set considerable importance on intercompany relationships, the design and construction industry is one business area in which this relationship is even more critical," says Sam Macdonald, Strategic Land Manager at A2Dominion.
"Repeat business is commonplace in the industry, but only if you can find that great partner."
One such partner is Conran & Partners, who A2Dominion teamed up with to bid for the role of Ealing Council's development partner for the regeneration of a 1970s housing estate at Green Man Lane, West Ealing – a development that is now breathing new life into the run-down area.
"Conran's innovative initial design proposals definitely helped us stand out," says Sam. "This was then reinforced when their designers joined residents' design workshops to hear the community's thoughts and suggestions, and then work them into an enhanced design. Ultimately this open and creative process was a key factor in A2Dominion being selected to deliver the regeneration scheme."
Developing design synergy
A2Dominion has also developed a strong partnership with the award-winning architects JTP. Together, we are currently working on two new developments in Cranleigh, close to Guildford.
"The relationship with JTP works as they share our approach to every major project, namely to ensure that we optimise all key factors within any development, while being commercially sensitive to the right design to meet the needs of the new community, at the same time minimising the impact on the immediate and wider surrounds," says Sam.
A2Dominion and JTP have already secured a multitude of high-profile awards, for both build quality and service delivery. The combination of these two teams brings a strong partnership that offers both knowledge and a wealth of experience.
"We work with A2Dominion because there exists a synergy in terms of the approach and ethos of the two companies," says Ian Fenn, Partner at JTP.
"They are open and receptive to new ideas and innovation, particularly if it can be demonstrated this can add value and improve the quality of the scheme generally."
"We are really enjoying working with them on our scheme in Cranleigh, and are genuinely excited at the prospect of delivering the first homes later in 2018 on what will be a seminal project for both A2Dominion, JTP and Cranleigh itself."
Speaking of the value that working with A2Dominion can bring, Ian adds: "They place great importance on the landscape and design of the spaces between buildings as the glue that helps build a community. They are also focused on delivering schemes that are rooted within their context, have a clear narrative, and that contain homes that inspire their occupants."