Enterprise Programme
From A2Dominion's Dragon's Den to the Silver Screen
01 November 2017
Deborah Meaden and Duncan Bannatyne may have the market cornered with their TV version, but our very own style Dragon's Den event is also helping support new business. Every year we award £15,000 to residents who demonstrate brilliant business ideas.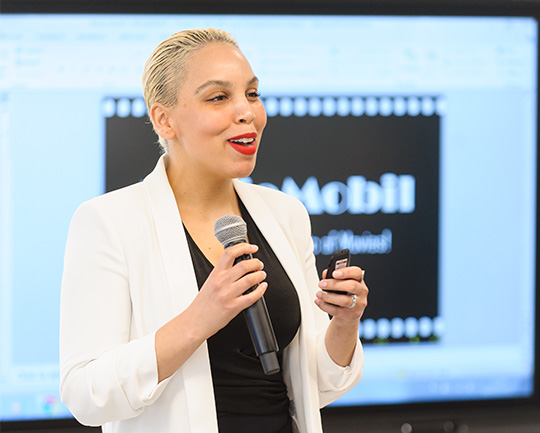 Kerry's business was created from her desire to change lives
Supplying good quality housing may be our bread and butter, but it's far from everything we do. We also invest in long-term support for residents in our communities, and a big part of that is our Enterprise Programme.
Launched in 2012, every year we set up workshops giving residents the opportunity to develop their business skills and win £15,000 investment through a Dragon's Den style process. We have so far awarded 35 residents £75,000 investment to help them start their own businesses.
It has already helped change lives and kick-start some fantastic business ventures, as mum-of-two Kerry Hector from Surrey can attest.
Mobile Cinema Becomes Reality
Kerry is resident of an A2Dominion development in Croydon. When an email popped into her inbox asking for people with great business ideas to take part in the Enterprise Programme, she jumped at the chance. Kerry already had the idea of taking an old London bus and converting it into a mobile cinema for those who either can't travel or afford or afford to go to the cinema. The email was the spark she needed to make it a reality.
"The hard work is worth it and I'm so grateful to A2Dominion and Virgin Start Up (VSU) for believing in me and my idea. I'm so excited for the future, we have a lot to do but its going to be great!"


Kerry on her success




Every Saturday morning for the next six months Kerry, alongside 15 other successful applicants, honed her business skills through sessions with financial and business experts. She received presentation skills training, and with the help of her business mentors translated her creative vision in to a business plan.
Finally Kerry was ready to showcase her idea to our senior leaders at a Dragon's Den style pitch in central London (our Dragons are far friendlier than their TV counterparts). Kerry was delighted to find out she was successful, and awarded a £5,000 investment to start her business, Movie Mobil.
Entrepreneur of the Year
By January 2017, a little over 16 months later, Kerry had bought and transformed a tatty old London bus into a 22-seater cinema, complete with top of the range screen and sound system and two built-in popcorn machines.
Movie Mobil has gone on to enjoy great success, securing a £25,000 loan from Virgin and entering the Virgin Media Business VOOM competition for start-ups, as well as teaming up with Croydon Supplementary Education Project to take the bus on the road for screenings. To top it all off, Kerry was crowned 2017 Entrepreneur of the Year at our annual Residents Award Ceremony.