Private Rent
Private rental key to a happy home for Clive
01 November 2017
Centenary Quay in Southampton occupies a stunning position overlooking the marina, offering a variety of high-end homes within a vibrant community.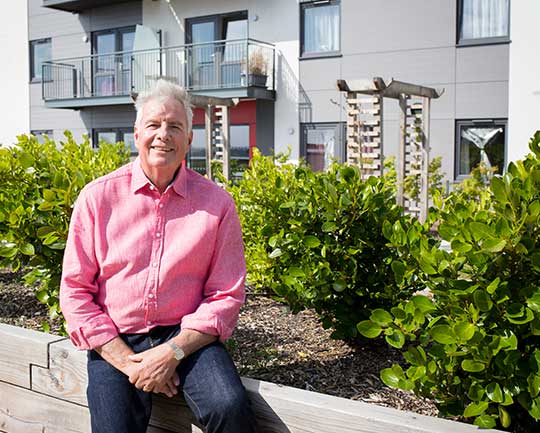 Clive Hillman can't get enough of the marina views from his new home
Sixty-nine-year-old Clive Hillman is one of the new residents.
"Nothing can beat the beautiful river views," says Clive."The convenience of the property is also perfect for my lifestyle and in close proximity to my son who lives nearby."
Clive rents his new apartment privately, secure in the knowledge that he has a professional landlord and a contract that works for him. The increasing demand for beautiful private rented homes means 20% of all our new developments are set aside exclusively for that purpose.
Absolutely Delighted
Previously having owned his own three-bed semi-detached home in Southampton, a change of circumstances led Clive to look for rental accommodation.
During his search he came across Centenary Quay, he arranged a view of the show apartment and loved it. Situated next to the River Itchen, with views of the marina and Ocean Village, the development offers one and two bedroom luxury apartments with a large communal garden, as well as restaurants, offices and a coffee shop.
Less than six weeks later Clive was moving into his new apartment. He was amazed by how easy the process was.
It was by far the most straightforward and easy moving process I have encountered; everyone at A2Dominion's rental team was very helpful at every stage and quick to give information on any queries I had.


Clive Hillman




Clive considers the apartment to be great value for the rental cost he's currently paying. He added: "It's perfect and I'm absolutely delighted."
We currently manage 852 private rented homes, and by 2020 aim to have 2,000, representing 5% of our total housing stock. Some of our key private rent schemes include Canons Gate in Bristol, The Panorama in Ashford, Kent, and Centenary Quay, where we currently let out 103 private rented homes.