Shared Ownership
Shared ownership gives family the space they need
01 November 2017
With house prices at an all-time high, many families struggle to afford properties that will accommodate them as they grow. Shared ownership can be a great option to help people own the property of their dreams.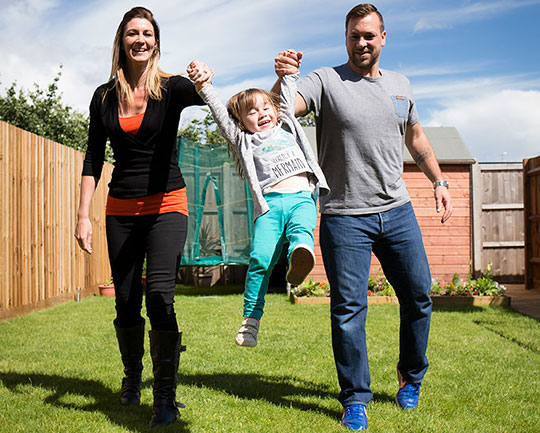 Upsizing has all the benefits for Gemma and David Marsh
A2Dominion's diverse development programme includes creating new homes for
shared ownership
, a part buy/part rent scheme. Part funded by the government, it is designed as a stepping stone to help people who might struggle to purchase a property on the open market, or own their home outright.
Thanks to A2Dominion's shared ownership scheme, Gemma, a customer representative, and her husband David, an operations duty controller at Heathrow airport, were able to upsize their small two-bedroom flat in Stanwell to a three-bedroom house with private garden in Kingston Crescent, Ashford.
Since having their daughter, now 2 years old, the couple were losing hope of ever finding a larger property to call home. Until a search on the
FABRICA
website saw them find the house they were after.
"From the start to the end we received substantial support and assistance from A2Dominion," says Gemma.
She continues; "The whole process was quick and pain-free. We were looking for a location that was convenient to shops, restaurants, and other local amenities, while also being an easy commute to work. That's exactly what we found with Kingston Crescent thanks to FABRICA by A2Dominion."
"The moment we walked in we fell in love with it. It's a very quiet and peaceful neighbourhood and the perfect size. After making an immediate offer, we had moved in within a few months. It was great moving into a brand new house in a lovely neighbourhood, and we've been able to put our own stamp on it making it a beautiful home for our family."



Gemma on working with FABRICA