Care and Support
Young resident explains how care and support colleagues have helped her family
26 September 2022
One of our young residents, Chloe, 20, shares a personal insight into family life at one of our supported accommodation sites and reveals how our dedicated colleagues have supported her journey.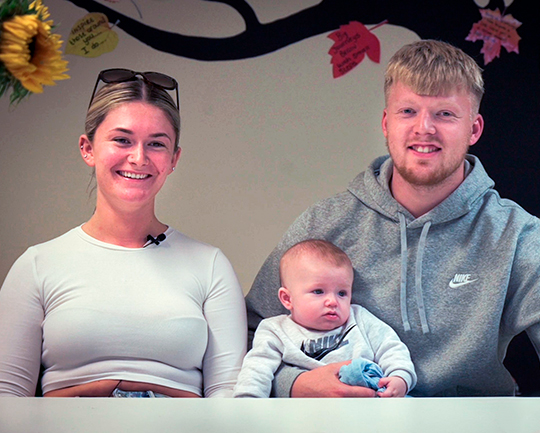 Chloe and her family
In March 2022, Chloe moved into Bramlings House in Newbury - a specialist scheme for young people and young parents aged 16-24. At the time, Chloe was pregnant with her first child and had unfortunately experienced a family breakdown – and at times found herself sofa-surfing.
Now, with the help of our devoted team at Bramlings, Chloe and her son have a settled and secure place to call home. They can also count on the support of Chloe's partner, Cian, 22, who is able to regularly visit.
We caught up with Chloe and Cian in September as part of Starts at Home day – a national day to celebrate the vital role of care and support services.
Chloe said: "The staff are very welcoming, it's easy to get along in here. And it's just a nice little community to be a part of."
She was also full of praise for her support worker, Geanette, Chloe said: "She's lovely, she's really easy to talk to, I think if I've ever got a problem, I can go to her with confidence."
Cian also praised all the staff at Bramlings for being so accommodating and going the extra-mile to ensure he can be there as much as possible.
He said: "Bramlings has helped my family a lot, to be honest. Obviously, you get restricted days you're meant to stay here, but they did allow me to stay a few extra days, just basically to help out my girlfriend."
He added: "I can't really fault Bramlings to be fair, they've all been really, really helpful."
Bramlings House provides 27 units of accommodation and staff aim to support the young people to develop the life skills they need to move on, either to privately rented accommodation or social housing.
In 2020, we launched a project to create a Psychologically Informed Environment (PIE), redesigning the service to ensure it is modelled around the psychological and emotional needs of the young people it supports.
Bramlings House was awarded the TPAS 'Excellence in Engagement in Support and Care' in 2021.