Enterprise programme
Fabulous five – local business women secure £15,000 funding at Dragons' Den style event
12 March 2018
Five local female entrepreneurs have won a combined £15,000 in business funding after presenting their business ideas in a Dragons' Den style event set up by residential property group A2Dominion on Saturday 5 March.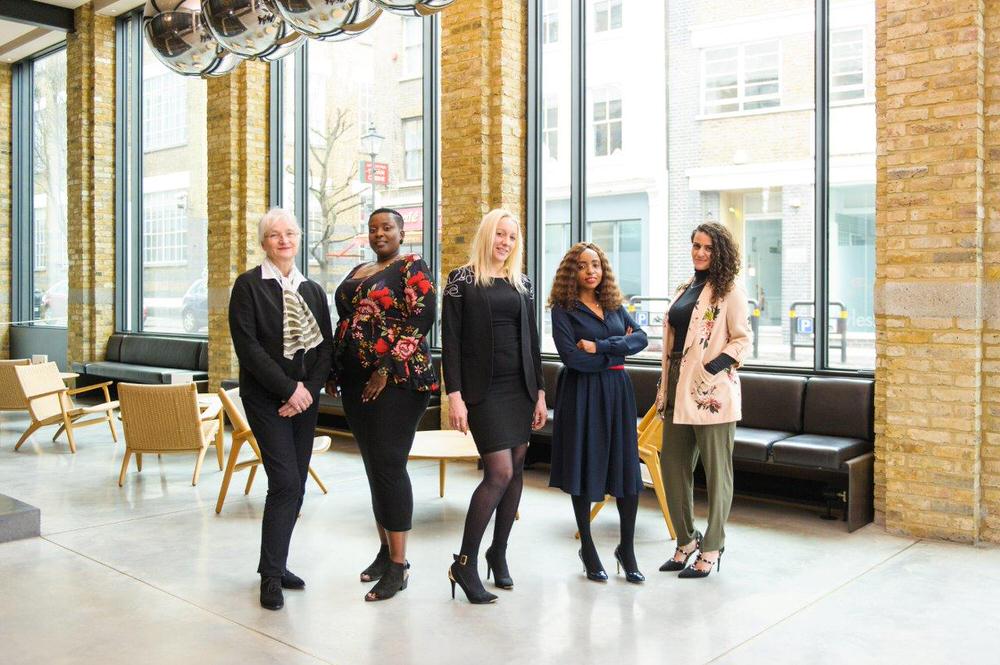 L-R: Andrea Tierney, Linda Chicout, Kylie Crosby, Elizabeth Wanjiru and Claire Tolba all walked away with business grants.
The ambitious entrepreneurs, who started on the journey last summer, attended a five-month programme of workshops to help develop their ideas, complete market research, create business plans and learn pitching skills. And then put their knowledge to the test in two previous rounds going from 15 to seven, and now down to just five.
The annual event has been running for 6 years and was judged by our own Dragon's; CEO Darrell Mercer, Deputy-CEO Anne Waterhouse and Ian Cox, Chair of Group Board. Plus Dawn Wightman, Director of Housing at A2Dominion and Carlene Bender, a small business advisor.
Dawn Wightman, Director of Housing at A2Dominion said: "Our enterprise programme has been running for six years now and year on year it's incredible to see how talented and passionate our residents are.
"This year has seen a particularly impressive group of women make the final. We were captivated by the energy and enthusiasm they each had for their business proposals. As with previous years, many will make a significant difference to the communities that they live in and are role models for those looking to set up their business in west London."
The winners not only receive a grant but are awarded a mentor for a year. Their chosen mentor, provided by GGT Solutions, will help them start up the business and put the grant to good use.
This year's inspiring winners are:
Kylie Crosbie, Hounslow
– a florist, balloon artist and a mother of three (including a 7-week old) won £3,800 to build up her at-home florist and balloon artistry business, Flowers by Kylie. Kylie impressed the Dragons with her experience, passion and drive for her business delivering a fresh, young and modern approach to floristry with the added offer of balloon artistry.
Linda Chicout, Hounslow
– a former youth worker Linda won £3,500 to set up Youngterprise, a business initiative giving young people the chance to develop skills that could set themselves on a path to work or enterprise. Youngterprise will start off offering an exciting series of engaging workshops to be delivered in the community.
Andrea Tierney, Northolt
– an artist who has started using her designs as prints and now wants to build on her accessories. Andrea won £2,700 to turn her scarves and accessories business, Hold Everything Dear, from the drawing board to the sales board.
Elizabeth Wanjiru, Northolt
– won £2,500 towards her Parenting Help business. She currently supports families being assessed for potential separation and wants to use her experience to set up an initiative that supports families to work through issues and stay together while costing local authorities a lot less.
Claire Tolba, Acton
– won £2,500 to set up her Vegan Beauty Salon, Café and Therapy studios named Beauty Unconditional in Ealing or Acton. The space will help improve people's body and mind and be completely cruelty free.