New life skills lounge at Matilda House
13 November 2023
A fresh look at supporting our resident's aspirations.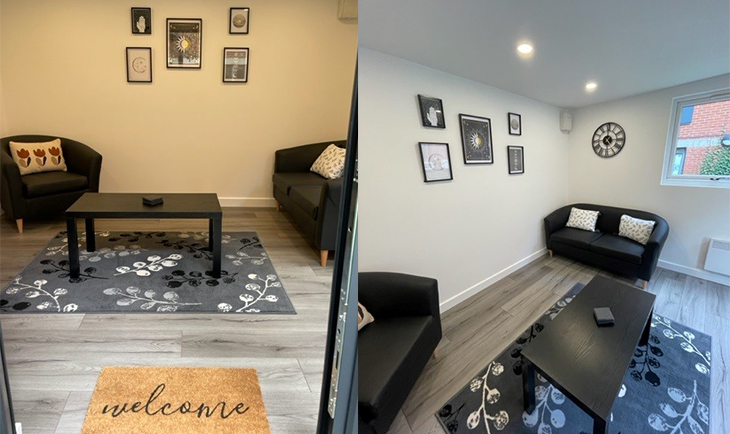 New life skills lounge at Matilda House.
Matilda House, Oxford, is one of our supported housing schemes. Many of the people living there have previously found themselves sleeping rough, with the majority needing support for substance misuse and mental health needs.
It can be difficult for people to get help, particularly when sleeping rough which can impact severely on their mental health and wellbeing. Matilda House offers a safe space and gives residents a place to call home. This year alone, Matilda House has given 44 people support and provided them with a place to call home.
Loren Hessey, Team Leader at Matilda House, stated: "Some residents can be with us for many years, and at times lack hope and motivation due to past circumstances.
"With a change of mindset and key worker support, residents are able to work towards their futures."
One way in which the staff at Matilda House have been able to support residents is by providing therapy sessions.
In October 2022, the team decided to apply for the Great Places to Live fund in hopes of receiving extra funding to renovate Matilda House. This grant is given to organisations that require financial support for economic hardship, health and wellbeing access, and digital training. The great news is that our team were awarded £15,000 from the fund to use towards renovation efforts.
Residents and staff at Matilda House then came up with a plan to build an external life skills lounge that could be used for group or private therapy sessions. They received planning permission in February 2023, allowing the construction of the lounge to begin.
After several months of work, the lounge was officially completed at the end of October 2023. Residents and staff are really happy with how the space has turned out and are delighted to start using it.
One resident said: "When can I move in? It's such a nice space to have here at Matilda House. It's separate from the main building, making it a much more private and secure space to have sessions."
You can read more about Matilda House and our other supported housing available to customers on our website
.