Care and Support
Oxford East MP hails 'great work' of A2Dominion's Matilda House staff
10 September 2021
Anneliese Dodds, the Member of Parliament for Oxford East, has praised the staff at Matilda House for making a huge impact in efforts to tackle homelessness in the area.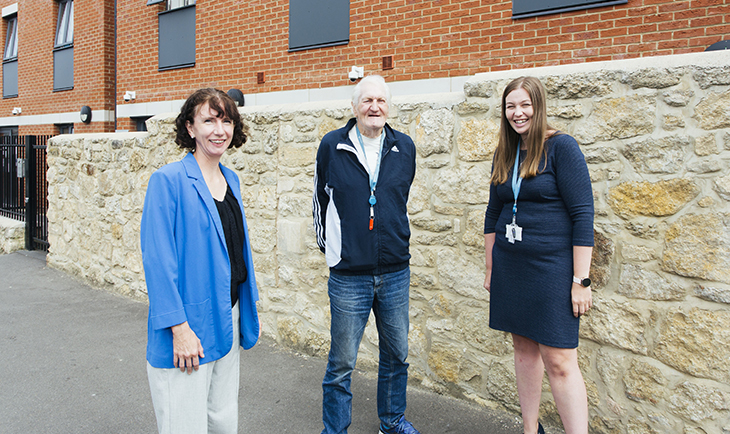 Anneliese Dodds, the Member of Parliament for Oxford East, has praises staff at Matilda House.
Anneliese made the comments on a visit to Matilda House for
Starts at Home day
on Friday, 3 September. While there she spoke to members of staff about the vital work they are doing at the support housing site, as well as one current resident and one former resident, who has now moved to his own accommodation.
Following these conversations, she said she wanted to see continued backing for places like Matilda House and the "great work" they do.
"Today I've seen how at places like Matilda House there's support for people who may have had a very difficult time on their journey into supported accommodation. It's really important that we have services like Matilda House available for the people who need them.
"Unfortunately rough sleeping has more than doubled since 2010 so I think it's really important we see that backing for supported housing."
One of the people Anneliese spoke to on her visit is Lionel, who is Matilda House's oldest resident at 77-years-old. He told us how coming to Matilda House helped to turn his life around after spending nine years living on the streets.
"Since I've come here I've changed a lot. I'm independent, I am looking after myself and I have some really nice friends here. I've managed to get organised and now I'm on a committee where we go to other people to help them. It's a good feeling to be able to do that."
Jo Evans, our Director of Supported Housing, also spoke to Anneliese about A2Dominion's new contract to run the local Housing First project for Oxford City Council.
Speaking to a BBC journalist who had come to cover the visit, Jo said: "Housing first is about principally having a property first and then wraparound care and support needs around that… It's really intense support, so the numbers from support officer to clients are quite low because of the really high needs."