Specialist Housing colleagues host day of volunteering at The Foyer
31 January 2023
Our colleagues from Specialist Housing recently hosted a volunteering day for employees from Virgin Media O2 at The Foyer in Salisbury.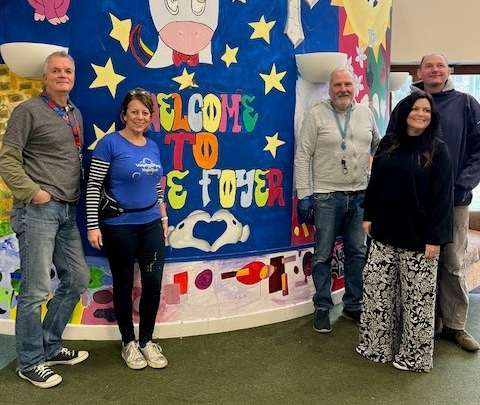 Employees volunteering
The team from the Core Data Engineering department used their volunteering days to add social value in the local community and this was achieved through their efforts in assisting us with the redecorating at our supported housing development for young people.
The group of six got stuck in with a range of DIY jobs, from filling and sanding, to paintings walls and ceilings. Their dedication resulted in a stunning transformation of the communal space for residents to enjoy.
The activity was arranged through our Specialist Housing team who hold a list of odd jobs, from home improvements to gardening, that local organisations can get involved with in their community.
Colleagues and residents at The Foyer were thrilled with the outcome and were full of praise for the volunteers; Steve, Callum, Eloise, Jack, Kieran and Lois.
Hanaa-Saleh Pain, Senior Support Officer at A2Dominion, said: "The staff and I are grateful for all the hard work the volunteers put in, they spent many hours relentlessly preparing the walls by filling, sanding, prepping and painting.
"The communal lounge is now a beautiful space for our young people to enjoy and socialise."
The volunteers were fully engaged throughout the day and were keen to speak with residents and colleagues about the important role supported housing can play. Further volunteering days from Virgin Media O2 are planned in other Specialist Housing schemes.
The Foyer is a scheme for vulnerable young people aged 16-25 and colleagues put the processes in place to help them progress in life.
A range of support is offered, from budgeting and financial assistance, to managing mental health, to helping people back into education or employment.
If any organisation is interested in getting involved in similar projects within our Specialist Housing schemes, please email: care.support@a2dominion.co.uk