Topping out ceremony for phase 2 held at Hanwell Square
20 February 2023
New high-quality homes for the Ealing area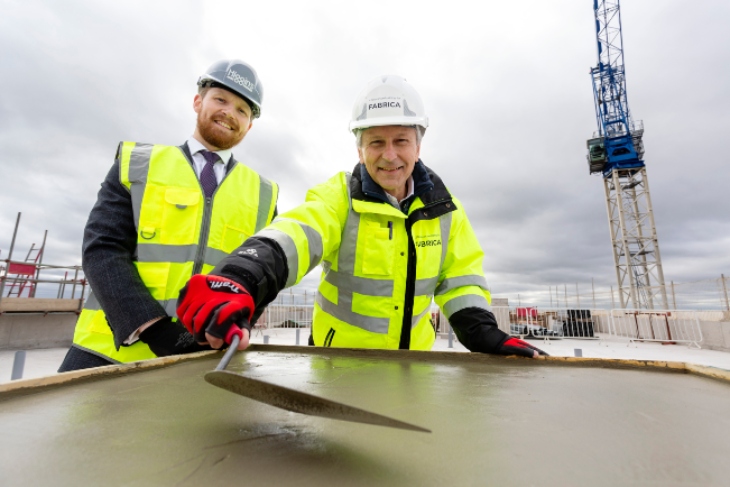 Colleagues from A2Dominion joined counterparts from Higgins Group to celebrate a special topping out ceremony at the new development at Hanwell Square on Boston Road.
Colleagues joined representatives from Higgins Group on Friday 17 February for the topping out of phase 2 at our Hanwell Square development in Ealing.
Phase 2 comprises 169 modern apartments, with 110 units for Private Sale via FABRICA, 20 for Shared Ownership and 39 for Affordable Rent.
Hanwell Square is located on Boston Road and centred around a stunning village square and landscaped courtyards, allowing apartments, shops and businesses to come together.
Phase 1 completed in January 2023 and comprises 191 modern homes, with 124 for Private Sale, 34 Shared Ownership and 33 Affordable Rent.
The overall development will provide 360 high-quality homes to the leafy London borough, with a mix of studio, one, two and three bedroom apartments, to accommodate a range of lifestyles.
Completion of phase 2 is expected in Summer 2024.
Danny Lynch, Director of Special Projects at A2Dominion, said: "We're delighted to reach this exciting stage of the build and once again demonstrate our commitment to bringing high-quality new homes to the area. This development will help with the demand for housing in the London Borough of Ealing and provide an opportunity for first-time buyers to get onto property ladder."
Declan Higgins, Partnerships Director for Higgins, said: "The topping out marks a significant milestone in our joint venture with A2Dominion, which is delivering much needed new homes as well as high quality public realm for the whole community to enjoy. It's also wonderful to see residents moving into the first phase of the development which is has proved extremely popular."
Hanwell Square is designed by Assael Architects and delivered by Fourpoint Architects, features contemporary soft brickwork, which contrasts against the dark frames of the windows, balconies and shop frontages.
The picturesque village square and landscaped courtyards is complemented by flexible space, ground floor retail shops, garden terraces, staffed concierge, a gym, roof tops gardens and play areas for children.
Hanwell Square is ideally located just a few minutes away from Hanwell train station which is now served by the new Elizabeth Line.