Development
A2Dominion agrees new private homes for rent at Bristol's Redcliff Quarter
24 October 2018
Residential property group A2Dominion will be marketing 118 homes within phase two of the Redcliff Quarter regeneration scheme in Bristol, after agreeing the freehold sale from Redcliff MCC LPP. The homes will be marketed for private rent under the FABRICA by A2Dominion brand.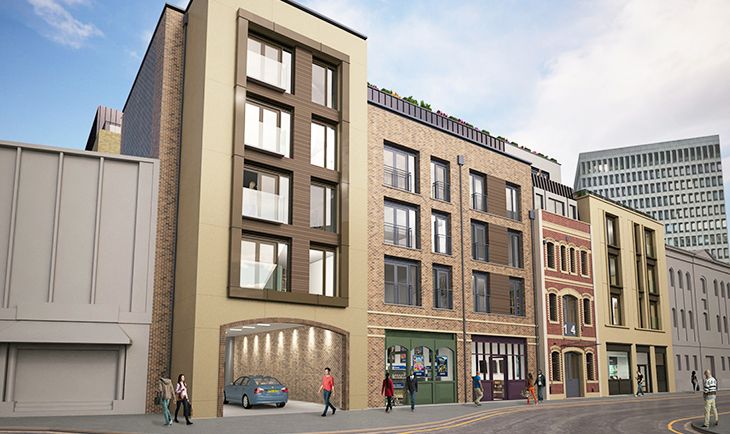 The Redcliff Quarter scheme in Bristol
A2Dominion, which has a strong presence in the property market in Bristol with 750 homes in management, has already completed 128 new homes within phase one of Redcliff Quarter.
Redcliff MCC LLP is a joint venture between Change Real Estate, ICG Longbow and Cannon Family Office.
Ron Persaud, Director at Change Real Estate, said: "With phase two of Redcliff Quarter now commencing, we're very pleased to be continuing our relationship with A2Dominion. They have an established reputation for offering sustainable and quality rental living, with exceptional customer service for their tenants.
"The first phase of new homes at Redcliff Quarter has already made a positive impact to the local area, and we are now looking forward to seeing further, much needed rented homes in the centre of Bristol within this development."
Simon Potts, A2Dominion's Director of Strategic Land Planning & Projects), added: "As a residential property group with a social purpose, we are committed to providing a range of homes at a price people can afford.
"This deal is enabling us to expand our offering of private rented homes in the Bristol area, bringing the total number of private rent homes in our portfolio to over 1,000.
"Being a regulated, financially-secure housing group, we are able to provide our customers the peace of mind that their property is managed by a professional landlord, which the very best in customer care."
Redcliff Quarter is set on 3.3 acres of previously derelict land. As well as new homes, it is set to transform this part of Bristol with cafés and restaurants, a hotel, a European style food court, shops and offices.
These 118 homes will be housed in two seven and eight-storey residential blocks, adjacent to the completed homes within phase one. Four restaurants will be included at street level. The new homes will front onto a new pedestrian street – just one of a number of public realm improvements being implemented - that will run through the centre of Redcliff Quarter and will be lined with restaurants and cafés.
Ron Persaud added: "Our vision for Redcliff Quarter is for a vibrant and inspirational development, influenced by the character and heritage of this historic area of Bristol. This is an area in great need of investment and care, having lain untouched for many years."
Ocean acted on behalf of A2Dominion and Savills on behalf of Redcliff MCC LLP.