Corporate
A2Dominion builds 875 new homes
31 July 2019
A2Dominion built 875 much-needed high-quality new homes across London and southern England in the last year, making it one of the UK's top developing housing associations.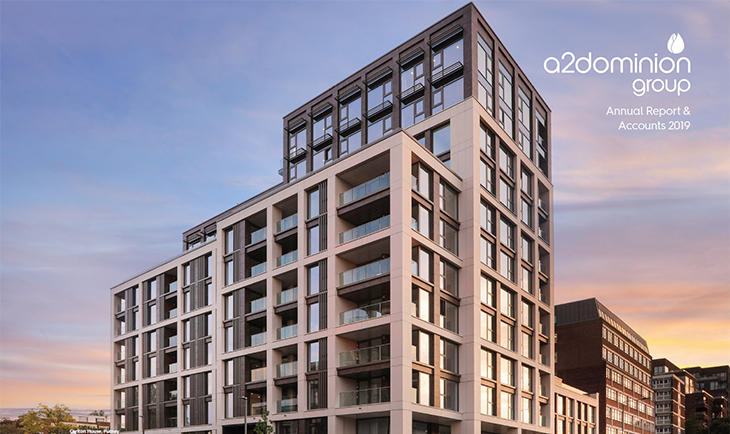 A2Dominion Annual Report 2019
Its completions for 2018/19 included 113 for affordable rent, 88 shared ownership, 24 social rent, 354 private sale and 296 private rent, with all surpluses reinvested into providing even more new homes and improved services.
The full A2Dominion Annual Report & Accounts 2019 is now
available online
.
The Group now has over 7,600 in the development pipeline and started building 1,837 in the last year alone – its highest ever.
A2Dominion also continued to focus on improving and investing in its customer services, achieving a 90% satisfaction rating with its responsive repairs service (a 12% increase over the past three years) and invested £1.6m into community programmes and initiatives.
The 38,000-home Group recorded a turnover of £372.2m (2018: £300.7m) and a net surplus of £23.9m, which was higher in 2018 (£92.5m) due to £40m of surplus from the completion of a joint venture development scheme in that year. The lower surplus also reflects the Group's significant new investment of £13.5m into fire safety, in addition to its homes maintenance programme of £32.9m (2018: £24.1m).
The organisation remains financially strong with an above peer average social housing margin of 37.2% (2018: 42.4%) and a newly-retained Fitch credit rating of A+, one of the highest in the wider sector.
Darrell Mercer, A2Dominion Group's Chief Executive, said
: "Whilst our operating environment remains challenging due to the on-going economic and political uncertainty, the Group remains in a very strong position.
"We have started to build more new homes than ever before, with 1,800 homes started in the last year alone. We are also continuing to focus on serving the needs of our customers, achieving high satisfaction across many key areas."
To view the A2Dominion Annual Report & Accounts 2018/19 in full, visit
our reports section
.
Press Office Contacts:
Sanoobar Patel / Faye Cooper
Communications Team
A2Dominion Group
020 8825 1974
Notes to Editors
Additional Performance Highlights
The Group's achievements in 2018/19 also included:
Forming a strategic partnership with the Greater London Authority to secure £85 million in funding, as part of the 2016-21 London Affordable Homes Programme
Raising a total of £465m of new finance to enable the Group to continue its growth and take on new development opportunities. This includes:
£250m of revolving credit loan facilities with leading financial groups, HSBC, MUFG Bank, BNP Paribas and National Australia Bank;
£215m – a forward starting bond issue; a forward starting private placement; a floating rate note; and participation in the MORhomes club issue.
Securing 650 plots of strategic land, with a total of 3,000 plots to ensure future supply and developing the Group's first-ever mixed tenure extra care scheme, Beechwood Grove in Reading
Launching the first phase of the Group's £23m business transformation programme, Fit for the Future, to become more responsive to customers' needs and expectations, whilst making the organisation more efficient and sustainable
Investing £1.6m into community programmes with over 3,500 customers benefitting from support services including financial and digital inclusion, health and wellbeing and employment and enterprise
Winning and retaining care and support contracts with a value of £1.3m to provide support and accommodation to vulnerable people, including those who are homeless, young parents and older residents
Recording best-ever income collection results.
About A2Dominion
A2Dominion is a residential property group with 38,000 homes across London and southern England, and thousands more in the development pipeline.
The Group provides affordable, private and social rented homes, student, NHS and temporary accommodation, as well as supported housing and homes for older people.
It also offers high-quality sustainable homes for sale and shared ownership, available through its FABRICA by A2Dominion brand.
Whilst the Group takes a commercial approach to housebuilding, all of its profits are used for a social purpose, with millions of pounds reinvested into delivering more new homes and better services for customers.
A2Dominion is part of the g15, a group of the largest housing providers in London.