Development
A2Dominion completes on extra care scheme in Reading
08 May 2019
Residential property group A2Dominion has completed construction of Beechwood Grove in Caversham, Reading which is a development of 43 one and two bedroom apartments designed to offer independent living for the over 55s.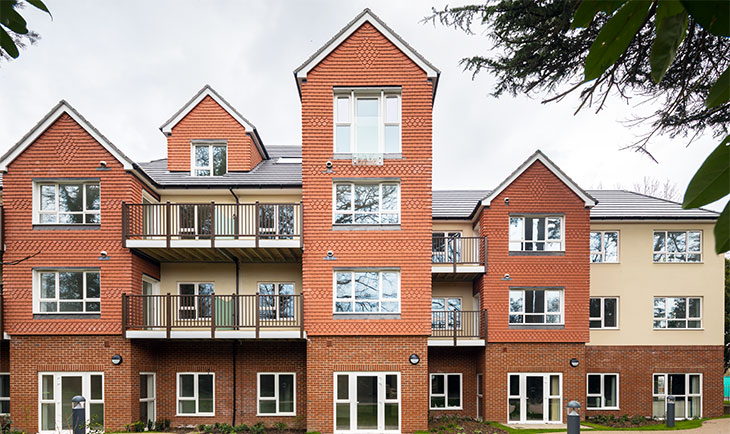 Beechwood Grove
Beechwood Grove provides 16 affordable rent and 27 private sale apartments, offering residents hotel style amenities including communal spaces, a bistro, craft room, hair and beauty facilities, a guest suite and a therapy room.
Residents will have access to on-site care and support services with 24 hour staff presence providing a safe and secure environment for all residents. Care packages will be tailored to meet the individual needs of residents.
Pam Vasir, A2Dominion's Director of Supported Housing, said
: "Beechwood Grove is the first mixed tenure retirement scheme for the group and supports the growing demand for this type of retirement accommodation for older people.
"Our vision is to improve people's lives through high quality homes and services and Beechwood Grove is an example of this. Residents will be able to take advantage of bespoke care and support packages whilst continuing to lead an independent lifestyle.
"The scheme will not only provide services and communal facilities for our residents but also for the wider community. This will include specialist day activities as well as a bistro and a range of community activities."
Beechwood Grove has been built in partnership with Reading Borough Council and contractors Feltham Construction.
Reading's Lead Member for Housing, Cllr John Ennis, said:
"I'm pleased to hear Beechwood Grove is complete. As a Council, we were determined to ensure that day activities on offer here would be made available for all older people living in the local community in Caversham, not just extra care residents at Beechwood Grove.
"I am also delighted that the Council has secured 16 of the 43 homes for social rent. There is a desperate shortage of properly affordable rental homes in Reading as everyone knows. Every one of those 16 homes will make a big difference to the people that occupy them."
Reading's Lead Member for Adult Social Care, Cllr Tony Jones, said:
"I am really looking forward to visiting Beechwood Grove now it is finished. It offers people the best of both worlds –living in the local community, with help and support on site and at the touch of a button, 24 hours a day and seven days a week, as an alternative option to a care home placement.
"The way we grow older is changing. Every survey tells us people want to continue to live independently for as long as possible. Beechwood Grove offers purpose-built individual homes for older people who want to continue to live fulfilling and active lives but with increased support and care on hand when they need it."