Awards
A2Dominion's eco-town wins at WhatHouse? Awards 2017
20 November 2017
A2Dominion's eco-town in NW Bicester, Elmsbrook, has won silver in the 'Best Sustainable Development' category at the national WhatHouse? Awards 2017.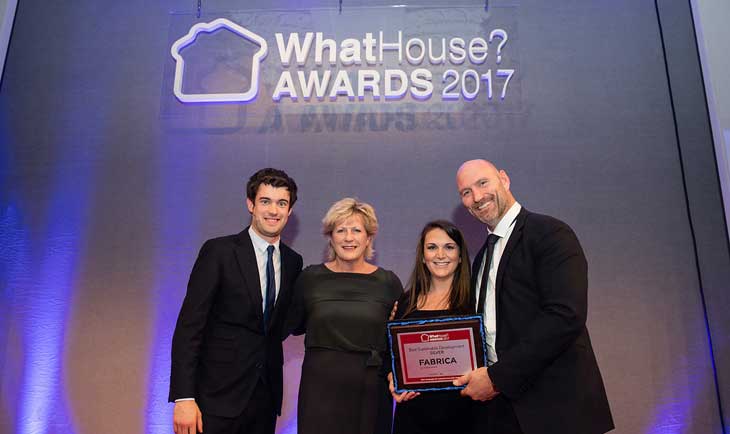 Jack Whitehall and Laurence Dallaglio present Rosie Nesbitt with WhatHouse? Award
Elmsbrook
, the initial phase of the property group's ground-breaking
NW Bicester scheme
in Oxfordshire, is the UK's first eco-town of 6,000 homes. The sought after development has won a number of awards since the completion of the initial phase in 2016 including a special commendation for eco-living at last year's London Evening Standard New Homes Awards.
The scheme is has been designed to support healthier lifestyles with 40% of the 52-acre development designated to green space. It is the first true zero carbon development of its size and one of just 16 projects worldwide to have been awarded BioRegional's One Planet Community status.
Of the development, judges at the high profile awards ceremony said: "Elmsbrook embraces big picture, real world sustainability. Boundaries are being pushed, lessons learnt and new technologies embraced while community engagement is dedicated to ensuring that sustainability works for all."
Nick Hutchings, A2Dominion Executive Director (MD Commercial), said:
"We're delighted to have won this award. Our Elmsbrook development has been built with people and the environment in mind, which is why, for example, all of the homes have solar panels, and there are electric car charging points across the estate. We can't wait for more people to experience what we've created at Elmsbrook through the other phases of the development."
The WhatHouse? Awards 2017, one of UK housebuilding's most high profile events, was attended by over 1,500 industry figures and hosted by comedian Jack Whitehall and former England rugby captain Laurence Dallaglio.