Communities
A2Dominion Employment team helping more people than ever
11 November 2021
As we leave the height of the pandemic, it seems like a good time to reflect on the work A2Dominion's Employment team has done to help people facing the most challenging circumstances, and how we plan to continue that work.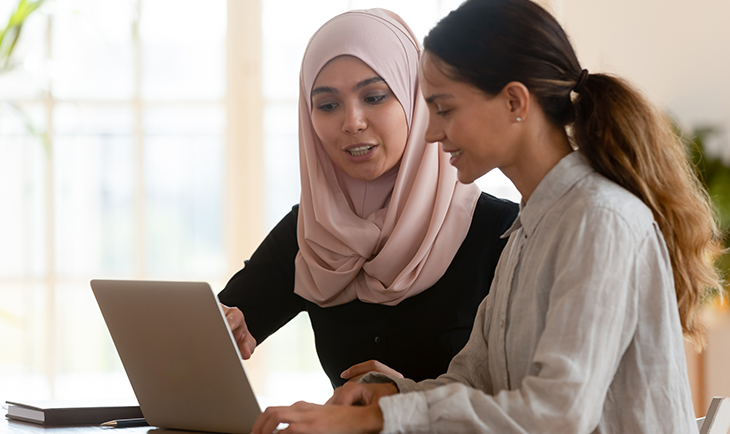 In the last financial year, A2Dominion's Employment Team supported 327 people to get onto a pathway into work or vocational education
Clearly it's been an unusual time. Our advisers, who are normally heavily reliant on face-to-face interactions with the people they support, had to adapt quickly to a new way of working. But I'm happy to report that despite these challenges, we've been able to help a large number of people; beating every target we put in place for the period.
More people came to us for help than ever before in the past 18 months, largely down to the knock-on effects of the pandemic. In the last financial year, we supported 327 people to get onto a pathway into work or vocational education, beating our target of 300. And 108 people we helped are now in work, well beyond the target we set of 90.
From April this year to present, our team has supported 196 people, with 78 currently in work – so we are on course to deliver even more positive outcomes than we did last year. This is a brilliant achievement, and I couldn't be more proud of the team for delivering these incredible results.
Sadly, it appears the economic and social effects of the pandemic will be felt for some time yet, so we stand ready to support our residents and some non-residents in London who face unemployment, for as long as they need us.
How we help people
There are four main ways that A2Dominion helps people into work, education or training. Our Pathways Programme is there to support A2Dominion residents into employment. We've also got the
Love London Working
(LLW) programme, which supports any London resident aged 16 or over into employment and training.
Thirdly, there is our
Enterprise programme
. Through this, we support A2Dominion residents who have a business idea and help them turn it into reality. Lastly, we've got the employment and education bursaries that support any resident from the age of 14 to 24, regardless of location.
Alem's story
One great example of the difference we can make is the story of Alem Tadesse, who came to us low on confidence after struggling to find work for a sustained period.
She was most concerned about her housing as she was in arrears and her benefits were not covering her full rent.
She was initially referred to our Debts, Overdrafts and Savings Help (DOSH) programme to address her immediate financial issues. The team was able to advise her on how to access emergency short-term funding to help her bridge the gap.
When this was done, attention was turned to how we could help Alem to find work and become financially stable in the long term. We reviewed her CV, helped her with her IT skills and prescribed her a set of supported job search sessions to give her the necessary help she needed.
I'm delighted to say that after 3 months of intensive support, Alem was offered care work with a well-known company, where she is still working today. She is currently receiving in-work support to ensure she can thrive in her new employment.
Adapting to change
In normal times, delivering the support we provide would involve a lot of travel, face-to-face interaction, and paperwork. Yet, for the past year none of those ways of working have been available to us. It's a testament to the agility and resilience of our team that we have still been able to support as many people as we have.
There's no doubt that having to make so many changes so quickly was difficult at first, but we soon adapted: using all the digital platforms that were available to us – including Zoom, WhatsApp and other video call apps.
Thankfully, our staff were able to hit the ground running with this and still offer a high quality of service, which is reflected in the number of people we were able to help last year and the positive feedback we've received off the back of that.
'Your determination changed my life'
Some of that positive feedback is very moving to read and gives me a huge amount of pride in the amazing work the team does every day. One example that comes to mind is the case of Maciek, a gentleman who has previously been homeless and was desperate for any kind of help go get back into work.
Vanessa, one of our brilliant advisors, was able to provide him with a laptop so that he could communicate via email and search for jobs online. She also helped him to draw up a CV for his applications. He now has a job as a Housekeeping Supervisor at Travelodge, which is a fantastic result.
During the process, Maciek got in touch with Vanessa to say: "I'm speechless. Your determination changed my life. I will now be able apply for 10 jobs a day. I cry when I think about it because I already see the difference that this can make for me. From the bottom of my heart thank you for everything you are doing for me!"
It's just wonderful to see how much the work that people like Vanessa does means to people and the difference we can make to people's lives.
Getting back out there
Like the rest of the country, we're starting to see things getting back to some sort of normality, and that's something we've been planning towards for some time. One thing I've really missed in the past year has been our jobs fairs. In 2019, we arranged eight, and they were a fantastic opportunity for whole communities to come together with local employers. It was great to be able to make that happen and support more people into employment.
As soon as we get the green light that everything is good to go that's one of the first things I'm going to look to put back in place. Obviously we have to be 100% sure that everything is fine before that happens because you're talking about having around 500 people in one room, but I'm confident we can make it happen at some stage in 2022.
Dennis Owusu - Employment Manager