Environmental, Social and Governance report 2023 shows improvements on energy efficiency
16 October 2023
We have almost doubled our percentage of new homes that hold a top energy efficiency rating, figures published in our Environmental, Social and Governance (ESG) report 2023 show.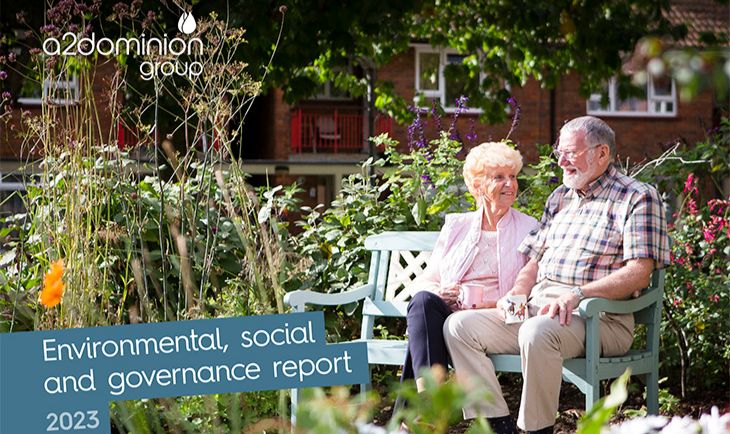 We've published our ESG report 2023
We are reporting our findings for a third consecutive year after being early adopters of the
ESG
report in 2021. The report sets out our commitment to sustainability and highlights the progress we're making to improve customers' homes and communities.
Environmental
We are committed to ensuring our customers' homes are high-quality and sustainable. In 2022/23, 99% of homes that we handed over had an Energy Performance Certificate (EPC) rating of A-C. Of those 15% achieved the top EPC A (most efficient) rating and this represents an increase from 8% in 2021/22, and 6% 2020/21.
The rising cost-of-living means it's more important than ever to ensure our customers' homes are as energy efficient as possible. We've taken steps to help reduce carbon emissions and energy bills by installing 867 band A gas boilers, 400 low energy lights, 300 double-glazed windows and 269 loft and cavity wall insulations.
We know more needs to be done and colleagues are developing a decarbonisation strategy to further reduce energy costs for customers and help meet our commitment to ensure all our homes are rated EPC C by 2030 and EPC A by 2050.
Social
Providing affordable homes and social housing is at the core of our operations, with affordable homes accounting for 64% of the 745 new homes that we completed in 2022/23.
As a housing charity we aim to deliver value for money to customers. In 2022/23 our average social housing rent was £129.92 per week – this is 42% of comparable private rent. The weekly rent also equates to 19% of local median wages - housing charity Shelter defines affordable housing as no more than 35% of household income after tax and benefits.
In 2022/23, we also supported more than 2,000 customers to access £7 million in grants, benefits and funding to help them meet the increased cost of living. Working with Charis, we provided £12,000 worth of emergency energy vouchers to nearly 300 households. Our Neighbourhood Improvement Fund also awarded £140,000 in grant funding to support 15 local improvement projects, including upgrades to communal areas, bike sheds, bin sheds and play areas.
Governance
We're committed to creating an inclusive environment where everyone has the opportunity to achieve their full potential. The Group pays the Real Living Wage to employees, including contractors.
To make further progress we're continuing to deliver our Equality, Diversity & Inclusion strategy and action plan. Progressive steps have already been taken, including improving maternity pay to 100% for the first 13 weeks and a review of succession planning at executive management level is underway, with initiatives to provide future-leader development for female colleagues.
Ian Wardle, CEO of A2Dominion, said
: "Our customers are our priority, and we're working hard to lay the right foundations to become a high performer that consistently delivers for them.
"The achievements we've shared in this report are just a step in our wider sustainability journey. We will continue to reflect and improve on these achievements and our efforts to truly provide homes people love to live in."
Highlights from our ESG report 2023:
99% of new homes had an EPC rating of A-C
80% of A2Dominion homes are affordable rent or social housing
64% of new homes were affordable
100% of properties have an in-date and compliant Fire Risk Assessment
867 new band A gas boilers installed
400 low energy lights installed
300 double-glazed windows fitted
Social rent is on average around 42% of comparable private rent
99.9% of social rent customers have secure tenancies
£11.2m generated in social value
99% of properties meet the government's national housing quality standard
100% maternity pay for first 13 weeks
Read our Environmental, Social and Governance Report 2023