Development
A2Dominion granted permission to build 121 new affordable homes in Crawley town centre
09 November 2020
A2Dominion's plans to redevelop Longley House in Crawley town centre, creating 121 new affordable homes for the town, have been approved by Crawley Borough Council. The 100% affordable housing scheme is being developed with support from Crawley Borough Council. Building is due to start at the site in Spring 2021 with the first residents expected in Autumn 2023.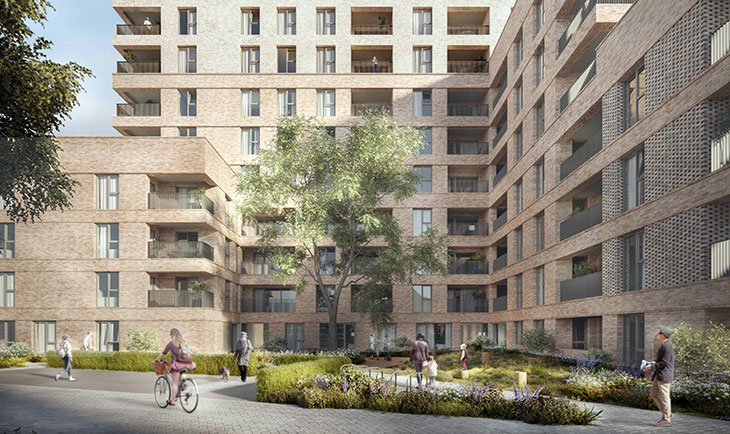 Longley House
The new building, designed by architects Ayre Chamberlain Gaunt, will replace the underused office block currently at the site. The development will offer 61 apartments for shared ownership and a further 60 for affordable rent. As proposed, the development will be nine storeys in height next to the railway line, stepping down to four storeys to minimise the impact on neighbouring properties.
Danny Lynch, Director of Land and Development at A2Dominion, said: "I'm delighted that we are bringing so many urgently needed affordable homes to Crawley. We have worked hard with Crawley Borough Council to develop a plan that works for the people of Crawley and the surrounding area.
"The high-quality design will improve this desirable town-centre location, that benefits from great travel links and amenities. Now that planning permission has been granted, we are looking forward to making a start at this site."
Councillor Ian Irvine, Cabinet member for Housing at Crawley Borough Council, added: "The council welcomes the partnership working with A2Dominion to bring this site forward for much-needed affordable housing to address local housing needs.
"We are also very encouraged by the quality of the design, of what will become a landmark building in this highly visible and sustainable location, making a significant contribution towards the ongoing regeneration of Crawley's town centre."
The plans include 58 car parking spaces around the perimeter of the building and 205 cycle spaces throughout the development. The scheme is also located close to existing shops and Crawley railway station.