Customer
A2Dominion pledges £15,000 funding for budding entrepreneurs
20 March 2019
Residential property group A2Dominion have awarded £15,000 to five entrepreneurs in business funding at a Dragons' Den style event.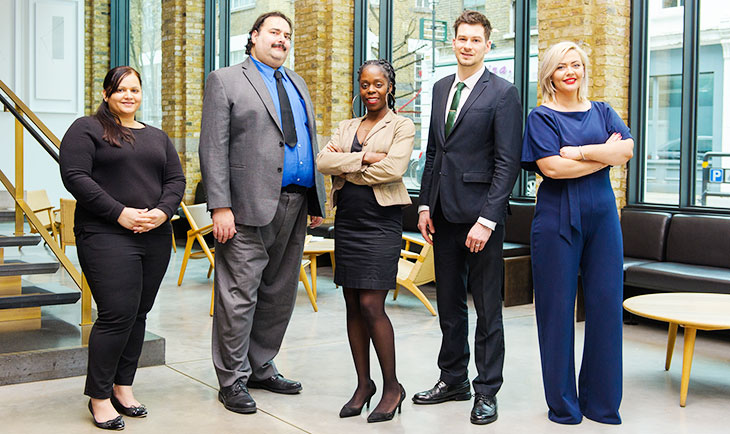 The 2019 Enterprise Programme finalists
The annual event has been running for seven years and is a key part of A2Dominion's community investment programme to support local communities by encouraging local residents to become more actively involved.
The entrepreneurs were chosen, from a record breaking 50 applicants, to join A2Dominion's Enterprise Programme last summer.
Supported by A2Dominion staff, the entrepreneurs attended workshops to help develop their business ideas, create business plans and learn pitching skills. After going through two knockout rounds, they were chosen as this year's finalists.
Dawn Wightman, A2Dominion's Director of Housing, said: "I'm continually amazed by the creativity and passion of our residents and the talent they bring to our enterprise programme.
"We've seen yet another year of outstanding finalists and the business pitches delivered by today's participants were enthusiastic and innovative. Their hard work and dedication throughout the programme has rightly earned them their investments and they are all true role models to their local communities."
This year's Dragon's Den event was judged by A2Dominion's Deputy Chief Executive, Anne Waterhouse, A2Dominion's Director of Housing at A2Dominion, Dawn Wightman, A2Dominion Board Member, Caroline Tiller, Audit Committee member, Martin Huckerby, and Director of Contactus Ealing, Carlene Bender.
The winners will also have access to a business mentor for 12 months, who will help them start up the business and put the grant to good use.
This year's inspiring winners are:
Edwin Grove, Slough
– Edwin won £2,500 to build up his student essentials in a box business, 2 Uni We Go. The imaginative concept allows students and parents alike to prepare for university life with his Student Starter packs that can also be personalised.
Naomi Davidson, Camden
– Naomi won £2,500 to develop her health and wellbeing directory, Orange Moon Wellbeing, a holistic wellbeing consultancy and one-stop shop for personal wellbeing and preventative wellness.
Leo Ellis, Ealing
– Leo secured £3,000 towards his family social media platform, FamLink. The platform will provide families with an online network where they can find everything they need regarding children and parenting in one place.
Afzala Khan, Hillingdon
– Afzala won £3,250 to build up her wedding cake company, QishMish. QishMish takes flavours from much loved desserts from the Indian sub-continent and incorporates them into wedding cakes. Afzala aims to be one of the leading cake designers for middle to higher income couples seeking to commission a wedding cake with its bespoke service, luxurious image and unique flavours.
Angela Cherry, Stanwell
– Angela won £3,750 to grow her business, Cecilia's Dream Events. Specialising in party styling and planning for all types of celebrations, Cecilia's Dream Events will take away all the hassle for customers whilst giving them the personalised touches that make all the difference. Her offer of a "Party in a Box" offers a convenient and affordable solution.