Development
A2Dominion starts work with Hammersmith and Fulham Council on new civic campus for historic town hall
21 February 2020
Work has begun on residential housing group A2Dominion's new joint venture project with Hammersmith and Fulham Council, bringing 204 new homes of which 52% are affordable housing.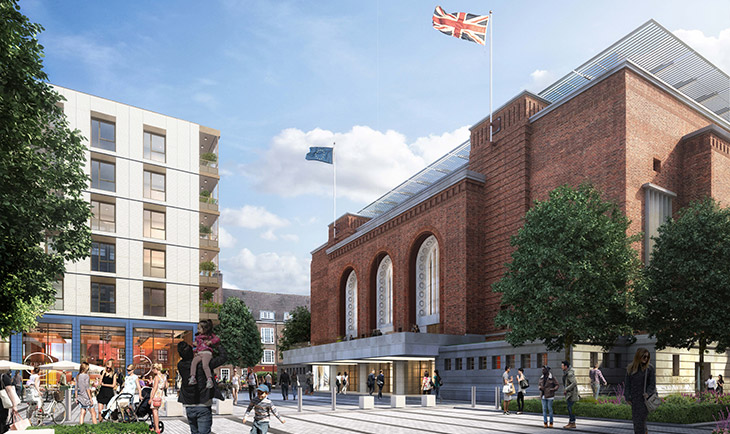 Hammersmith Civic Campus
It will also deliver several amenities including a cinema, art gallery space and a rooftop bar and café to the heart of Hammersmith. The space will additionally house office space for an established business, bringing hundreds of jobs to the area.
The development, designed by Rogers Stirk Harbour and Partners, will transform the Grade II-listed Town Hall and King Street into a new civic campus. The Town Hall was built between 1938 and 1939. An extension added in the 1970s, which proved unpopular with local residents, will be demolished as part of the redevelopment work.
One of the exceptional features of the build is that it will be one of the most accessible spaces in the world – the result of close consultation with the Disabled People's Commission. It is also being built to an eco-friendly design, minimizing the scheme's carbon footprint.
Danny Lynch, Director of Land and Property at A2Dominion, said: "This is an excellent development opportunity that delivers affordable housing and a number of desirable new features for the people of Hammersmith. The fact that it's accessible and eco-friendly is also very important to us. As a residential housing group with a social purpose, providing high-quality homes, as well as investing in the community itself, makes this exactly the kind of scheme we want to be involved in."
Local residents' group the Civic Campus Commission were also involved in the design and planning phase of the project.
Civic Campus Commission Chair Richard Winterton said: "The development team have created a wonderful design, which creates a new civic centre for the borough and breathes new life into the west end of King Street. And the Town Hall Extension will soon be gone!"
Jane Wilmot from the independent Disabled People's Commission added: "This scheme put the advice from our report,
Nothing About Disabled People Without Disabled People
, at the very heart of how it operated. Problems were identified early, which saved time and money, and will give us a world-class building that is accessible for everyone – including disabled people – because the goal was always to go well beyond the legislative standards and create something that sets the mark."