Customer
A2Dominion student accommodation to house homeless in Oxford
03 August 2020
A2Dominion is working with Oxford City Council to use its Canterbury House scheme to house homeless people in its 76 rooms from August 2020 to July 2021.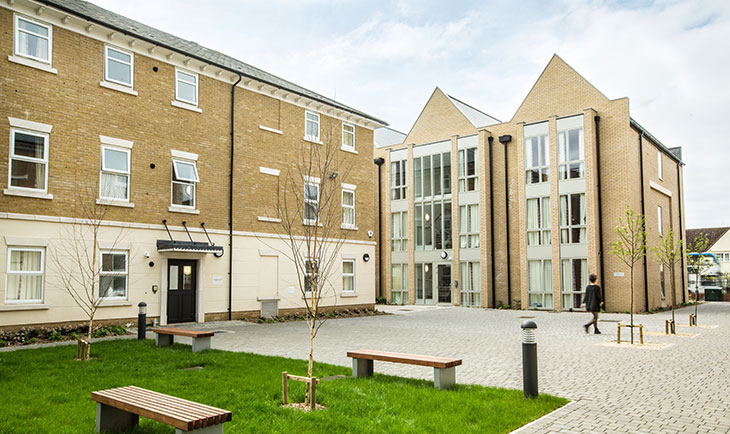 Canterbury House in Oxford
The move sees Canterbury House, which is currently student accommodation for Oxford Brookes university, play the most significant part in the council's plans to use 124 rooms to keep homeless people in Oxford off the streets long-term. This will protect both them and other members of the public from the ongoing threat of coronavirus (Covid-19) and give them an opportunity to build more stable lives.
As interim housing, Canterbury House will become a bridge between emergency lockdown arrangements, such as hotel rooms and emergency homelessness hostels, and more sustainable long-term dwellings. The scheme will be managed by St. Mungo's on behalf of the council.
Steve Michaux, Director of Residential Services at A2Dominion, said: "A2Dominion has been privileged to work with Oxford City Council to combat homelessness in the city for a number of years now, and we are delighted to be in a position to support this project.
"One of the most positive stories to come out of the past six months has been the way local authorities, housing associations and others have pulled together to help get homeless people off the streets and out of harm's way.
"We are pleased that our student accommodation at Canterbury House can be re-purposed to this end and we are thankful for the hard work of our partners at Oxford Brookes and Oxford City Council for helping to make this happen."
The acquisition of Canterbury House means the council will be able to maintain accommodation for people housed during lockdown as existing agreements with hotels and colleges come to an end this month. The move is the first of its kind to be announced by any local authority in England.
To fund the acquisition and management of the accommodation, the council has applied for funding to support its interim housing scheme from a
£105 million pot announced by government
last month.
Councillor Mike Rowley, cabinet member for affordable housing and housing the homeless, Oxford City Council, said: "We believe that nobody should have to sleep rough in Oxford and I'd like to thank Oxford Brookes University, A2Dominion, the YHA, University College and St Mungo's for helping us to provide the interim accommodation that could make our ambition a reality."
A2Dominion and Oxford Brookes are working with any students who chose to renew their lease for the next academic year to arrange alternative accommodation.