Awards
A2Dominion scoops trophy at the Constructing Excellence Awards 2016
30 June 2016
A2Dominion has won the award for Sustainability for Elmsbrook at NW Bicester, in the 2016 Constructing Excellence in London and South East Awards.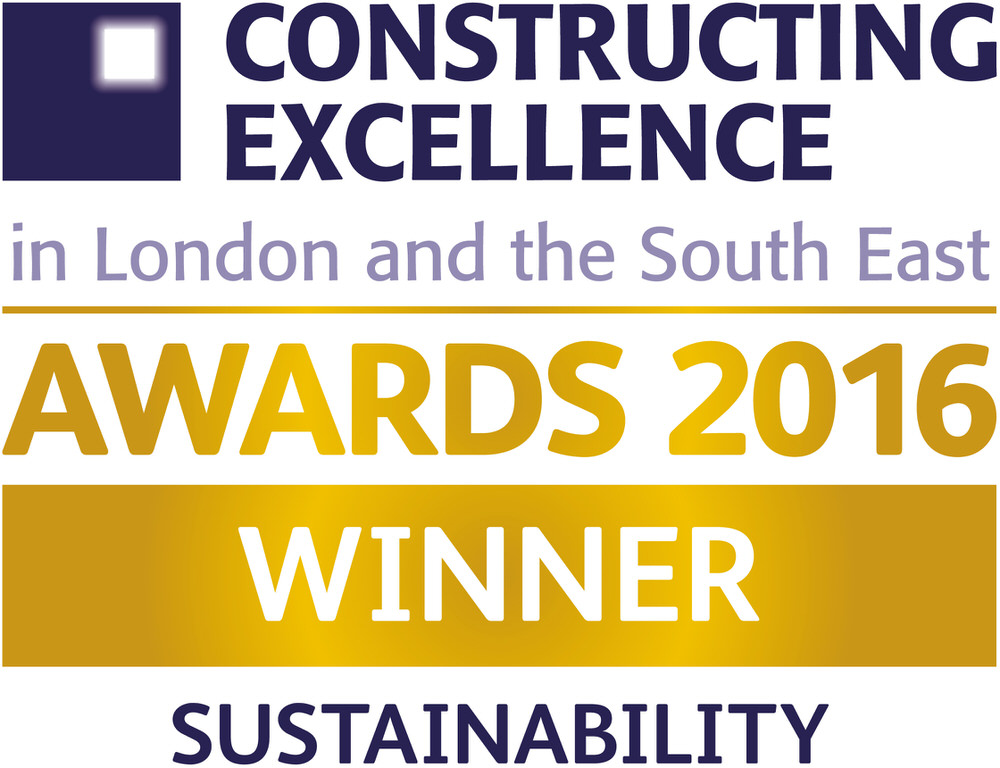 NW Bicester eco-town Elmsbrook wins Constructing Excellence Award for sustainability
Once complete, Elmsbrook will deliver 393 highly energy efficient homes and a local centre, creating the UK's first true zero carbon community.
The win was announced at the Gala Dinner and Awards Ceremony on 30 June, nine Kings Suite, Lancaster London, where Elmsbrook was recognised as a ground-breaking example in establishing sustainable new communities in the UK – its principle being to make it easy, attractive and affordable for people to live healthy, sustainable lifestyles.
A2Dominion was up against six other finalists in the awards, now in their tenth year, including: St James' Market, London (Balfour Beatty), Green Park, Reading, Land Rover BAR Americas Cup HQ & Facilities Building (HGP Architects Ltd), Northern Line Extension: Responsible Resource Use – Transport for London (TfL) and Ferrovial Agroman Laing O'Rourke JV (FLO), Hursley Wet Waste Processing Facility (R&W Civil Engineering) and NESCOT (Willmott Dixon).
Steve Hornblow, Project Director, A2Dominion says:
"We are absolutely delighted to have won the Sustainability Award this year. The category required entrants to demonstrate that they are environmentally, socially and economically sustainable and we have worked hard to shape a unique and innovative scheme that achieves all of these things.
"As well as building highly energy efficient future proofed homes we have planned for 40% green space within the development, as well as amenities to create a vibrant community, while implementing sustainable travel solutions and supporting active healthy lifestyles. We are very proud that our hard work has paid off and our looking forward to seeing our community flourish now that the first residents have moved in."
Tina McGeachan, Head of Market Development at Constructing Excellence Awards says:
"We are really pleased to announce A2Dominion as the winner of the Sustainability award. Competition has been fierce and our team has been more than challenged this year to select our 2016 Winners. Congratulations to A2Dominion on a well-deserved award."
As part of the entry and selection process, A2Dominion were shortlisted to pitch to the expert judging panel on 21
st
April in London, delivering an inspiring presentation to convince the judges that its project was worthy of being the winner which was followed by dragons-den style questions from the judges.
The awards had 15 categories, with 78 presentation teams involved on one day. A2Dominion was chosen by judges as the winner out of six other finalists – announced at the Awards Ceremony in front of over 560 construction industry professionals.
Ben Harris of Temple Group, and sponsors of the Sustainable category said:
"It was A2Dominion's focus on a 'sustainable society' that people want to buy into that resonated with the judges. There is a real focus on activities that will build a strong community – a thriving local economy underpinned by jobs for residents and sustainable and innovative business start-ups. [This is] clearly a successful business model as homes are selling fast.
"The use of technology, especially the 'Shimmy', is commendable in the way the scheme achieves low carbon, resource efficiency, sustainable transport options and engages residents in their use. The Shimmy is a personalised, interactive information platform that helps residents, businesses and services that support sustainable operations on the site to minimise the performance gap."
"
The Constructing Excellence Awards focus attention on some of the most important issues for the sector, and recognise the very best companies, collaborations and projects – sharing best practice and inspiring others to adopt new and better ways of working that deliver outstanding results.
For more information about the Constructing Excellence awards, download their Brochure
here
or visit
http://www.ce-awards.co.uk/
. For more information about Elmsbrook or NW Bicester visit
www.nwbicester.co.uk
.