Development
Construction milestone celebrated at new Oxford development
27 May 2022
We have marked the completion of a major construction milestone at a new apartment block in Oxford.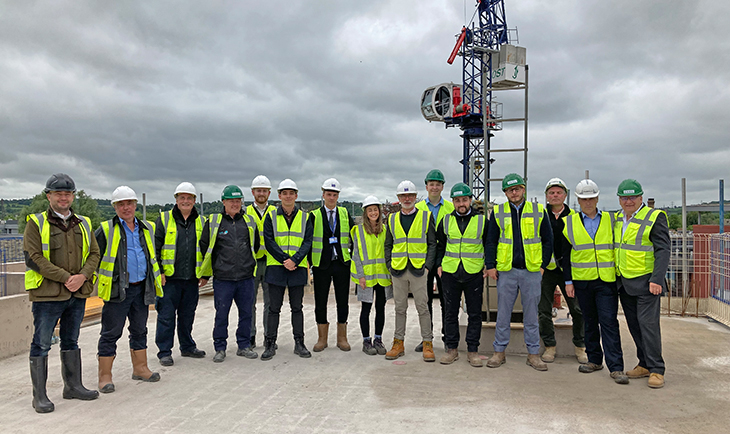 The site has a mixture of one and two-bedroom flats and forms part of a plan for 170 new homes in the area.
The final structural beam has been placed at the new residential scheme on Paradise Street.
The occasion was celebrated by A2Dominion, contractor Exel Construction and Oxford City Council on Wednesday 25 May with a traditional 'topping out' ceremony.
The city centre development comprises of 30 PRS (Private Rented Sector) units and will replace the former Simon House hostel, which we have reprovided at Matilda House in Cowley.
The site has a mixture of one and two-bedroom flats and forms part of a plan for 170 new homes in the area, this includes 140 affordable units at Gibbs Crescent.
Jim Smith, Head of Land and Planning (West) at A2Dominion, said: "We are delighted to have reached this important milestone for the development in partnership with Exel and Oxford City Council.
"Both sites demonstrate our commitment to create new high-quality and affordable homes for the people of Oxford.
"We have a proud record of investing in the city, and this latest venture reinforces our social purpose and desire to make a difference to the communities in which we operate."
David Thoroughgood, Managing Director at Exel Construction, said: "This is a momentous occasion on any project and even more so in the city centre of Oxford.
"We have been working with A2Dominion on this development for many years, and it's been a real team effort in getting to this point. My thanks go out to the design team and also to our site management team for the excellent way they have overseen and controlled the restrictions inherent with this site."
Councillor Linda Smith, cabinet member for housing at Oxford City Council, said: "Oxford needs homes of all tenures and the Paradise Street development is an important part of A2Dominion's plans to deliver 170 new homes in the heart of our city. Congratulations to A2Dominion on this important milestone, and I look forward to the completion of this project and the 140 homes for social rent and shared ownership that will follow at Gibbs Crescent."
Planning permission for the two sites was granted by Oxford City Council in October 2019.
The new development on Paradise Street is located just a short walk away from the main shopping city and Oxford Station.