Communities
Enterprise Programme finalists toast £15,000 funding to help support their business dreams
05 April 2022
Five A2Dominion customers secured a combined £15,000 in business funding in late March, after reaching the Boardroom final of our Enterprise Programme.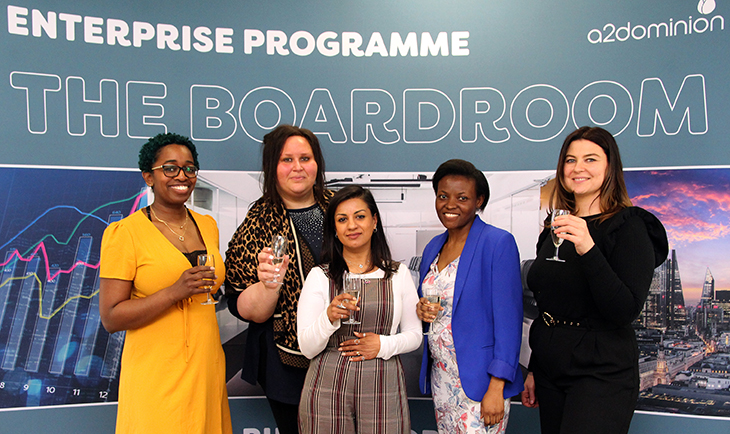 The team of finalists in our Enterprise Programme 2021-22
The impressive entrepreneurs began their journey to success last September, after a record 155 customers registered an interest for 2021-22. Those who were ready to proceed with their business idea then began 6 months of online workshops to:
Develop their business ideas into professional plans
Improve their presenting skills
Gain a full understanding of what makes a business succeed
The participants then put their knowledge to the test in two knockout rounds before being chosen to pitch for one last time in our 2022 Boardroom Final.
Back in business
Due to COVID-19 restrictions, the previous two Boardroom Finals saw participants pitching to the judging panel remotely via Zoom. However, this year saw the panel safely return to the Boardroom in-person, adding to the anticipation of what proved to be another outstanding conclusion to the programme.
On the 2022 judging panel were:
A2Dominion Director of Housing, Dawn Wightman
A2Dominion Group Chair, Ian Cox
Contactus (Ealing Business Expo) Director, Carlene de Bourg-Bender
Dawn Wightman, A2Dominion's Director of Housing, said
:
"It was wonderful to be back in the Boardroom to see the finalists present their fantastic businesses.
"What struck all of us on the panel was not just the quality and professionalism of this year's final five, but also their determination to succeed in order to support and inspire their families. We all got quite emotional at times hearing their passionate pitches, and it's an absolute joy to be part of a programme that can help each of them towards their business dreams."
The winners were also awarded a business mentor for 12 months, who will help them start up the business and put the investment to good use.
Meet the successful finalists
Cherelle Fergus – Victoria (Westminster)
– Cherelle, aka Chae, received £3,500 towards her
'Chae's Bakes'
business. She makes delicious bespoke cakes and baked goods in a variety of flavours for all dietary requirements including gluten-free, vegan and lactose intolerance. Chae believes that everyone should be able to eat cake and is on a mission to make that happen!
Holly Poore, Stanwell (Spelthorne)
– Holly was given £2,500 to develop her business
'The Elf Imaginarium'
, a fun, year-round bespoke Elf mail service that not only captivates the child in a world of pure imagination but is also a unique way of identifying any underlying mental health issues that they may need support with.
Minakshi Sharma, Hayes (Hillingdon)
– Minakshi received £3,000 towards her business,
'Heart & Soul Creative Studio'
. A self-taught resin artist, Minakshi creates bespoke and customisable items ranging from decorative pieces to homewares, adding a unique touch of luxury and sparkle to your home or business.
Esnath Shumba, Feltham (Hounslow)
– Esnath received £3,000 towards her Boerewors sausage business,
'Flames Foods Services Group Ltd'.
This special brand of beef sausage is infused with rich flavoursome spice blends and is a tasty, pork-free alternative suitable for all dining occasions.
Emma Nor – Victoria (Westminster)
– Emma was given £3,000 to develop her yet to be branded candle business. Her aromatherapy candle company uses pure essential oils containing no toxic substances, creating a clean burn. The oils used in the blends are also thought to aid positive wellbeing, with the potential to help alleviate symptoms of anxiety, depression, and premenstrual syndrome.
See more pictures from the
Boardroom Final
.