customer
Fashion house Stella McCartney donates £1000 to A2Dominion's community impact fund
15 July 2019
Fashion house Stella McCartney Ltd have donated £1000 to A2Dominion's community impact fund after taking part in the property group's Big Impact Day volunteering programme.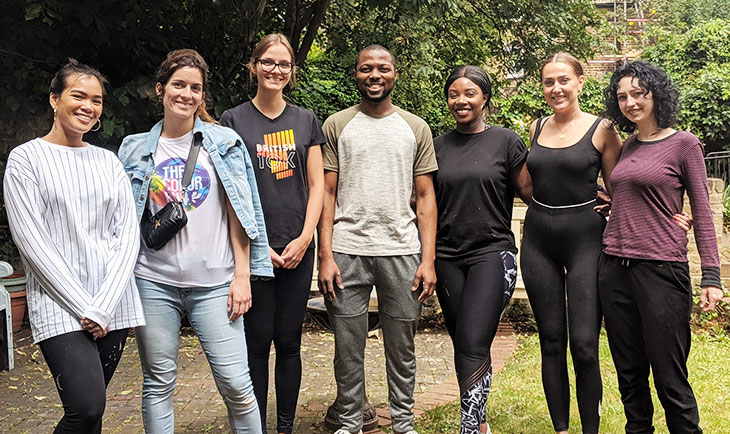 The volunteers from fashion house Stella McCartney Ltd strike a pose in the garden at Birkbeck Court, Acton.
A2Dominion's Big Impact Day programme offers businesses and organisations the opportunity to volunteer within the property group's communities and help make a real difference to its residents' lives. Volunteering opportunities take place within A2Dominion's schemes and often include redecorating, gardening and painting.
Staff from the famous designer's organisation volunteered their services at A2Dominion's Birkbeck Court in Acton (Ealing) last month, repainting the lounges and kitchens at the older persons' housing scheme to the delight of its grateful residents.
After thoroughly enjoying their volunteering day and getting to meet with some of Birkbeck Court's tenants, the Stella McCartney team offered a generous £1000 donation to help towards costs of similar community projects in the future – vowing also to come back and get involved again soon.
The donation will go towards other Big Impact Day projects, food vouchers for vulnerable residents and other community initiatives including A2Dominion's Christmas gifts project for isolated and lonely residents.
Chloe Mickelborough, Internal Communications Editor at Stella McCartney said:
"We all had such a great time at Birckbeck Court and really enjoyed being able to help freshen up the residents' flats and see the impact we made.
"We were really impressed by the Big Impact Day programme and hope that the £1000 donation will support Julie with her fantastic projects and help make a difference to the lives of A2dominion's residents."
Julie Brooker, Employment Advisor at A2Dominion, said:
"The team of volunteers from Stella McCartney were fantastic and worked so hard throughout a very hot day. Not only did they do a great job with the painting, they were kind and friendly to our residents and made them feel very special - especially when they realised the team came from such a famous company!
"The £1000 donation towards our impact fund was absolutely incredible. We are so very grateful for their generous support and will use the funds towards future community projects that will help enhance the lives of our residents."
For more information on A2Dominion's Big Impact Days, contact
Julie.Brooker@a2dominion.co.uk
or call 020 8825 1533.