Communities
Five A2Dominion customers share £15,000 to support budding small businesses
26 May 2021
A2Dominion has awarded a total of £15,000 of start-up capital to five customers following the Boardroom Final of this year's Enterprise Programme, held on Saturday, 22 May.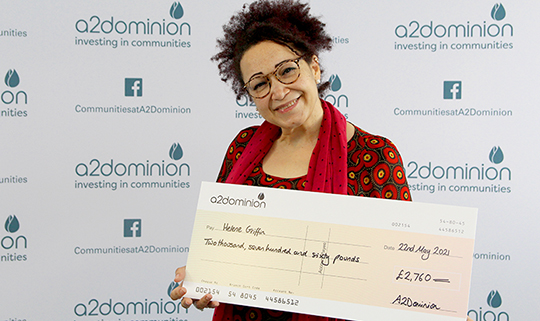 A2Dominion has awarded a total of £15,000 of start-up capital to five customers
The A2Dominion Enterprise Programme is run annually and supports customers who have a business idea with a range of support, including advice from a dedicated team of business experts. At the end of the programme, everyone on the programme gets the chance to pitch for funding, with five successful candidates taking home the money. The winners are also awarded a business mentor for 12 months, who will help them set up the business and put the investment to good use.
This year's programme began in September 2020, with 30 A2Dominion customers signing up for a six-month course in which they attended a series of online workshops to develop their business ideas, improve their presenting skills, and gain a full understanding of what makes a business successful.
The participants then put their knowledge to the test in two knockout rounds before being chosen to pitch on Zoom for one last time in the Boardroom Final at A2Dominion's Ealing office.
This year's winners are:
Helene Griffin, Staines
- Helene received £2,760 towards her business 'Cocoon Kids', a community based therapeutic service which provides creative counselling and play therapy for children and young people aged 4-16 years.
Celina Dennis, Ruislip
– Celina was given £2,600 to develop her hair care business, 'SistaCurl', which formulates and produces natural ayurvedic hair care products that promote healthy hair and scalp.
Peter Suksakorn, Stratford
– Peter received £2,640 towards his 'Loudmouth Tech' business, an innovative piece of software that helps professionals become more effective communicators and presenters.
Deborah Brown, Dulwich
– Deborah was given £2,000 to grow her business 'Beautiful Balloons and Blossoms', which provides unique balloon and flower structures for special occasions, parties and corporate events.
Felicity Daniel, Hounslow
– Felicity received £5,000 towards her business, 'Jenson's Little Feet'. Her mission is to source and offer solutions that will make the clubfoot treatment journey as comfortable as possible for both babies and their parents.
The judging panel this year were:
A2Dominion Deputy Chief Executive, Anne Waterhouse
A2Dominion board member and Chair of our Customer Advisory Panel, Caroline Tiller
A2Dominion Director of Housing, Dawn Wightman
Director of A2Dominion Developments Limited, Mark Gallagher
Dawn Wightman, A2Dominion's Director of Housing, said:
"This year's finalists blew the judging panel away with their professional and passionate pitches, and it was great to see such a diverse mix of businesses on display and learn the inspiring stories behind them.
"I continue to be amazed by how talented and committed our customers who enter the Enterprise programme are, and this year's magnificent winners have done themselves and their communities proud."
See more pictures from the
Boardroom Final 2021
.