Bukky Awokoya wins Future Leader category at The G15 Ethnicity in Housing Awards
26 May 2023
Congratulations to one of our colleagues, Bukky Awokoya, who was amongst the winners at this year's G15 Ethnicity in Housing Awards.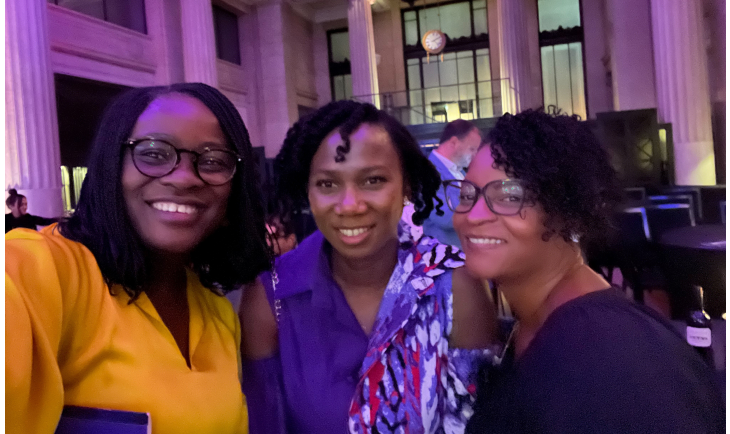 Bukky Awokoya (centre) won the Future Leader award
Senior Income Officer Bukky won the Future Leader award, beating nine other people on a shortlist of outstanding nominees from across the housing sector.
She was presented with her award on Thursday 25 May during a ceremony at Banking Hall in Cornhill, London.
The awards, now in their second year, "celebrate the achievements and contribution of minority ethnic colleagues in the housing sector".
Bukky was one of four A2Dominion colleagues who were shortlisted for an award.
A2Dominion Area Manager Nisreen Al-Amer nominated Bukky for the Future Leader award, citing her "devotion to self-improvement, progress within A2Dominion and the support she gives to her colleagues".
Nisreen also described Bukky as "unwilling to allow things to stop her and inspiring to us all".
Speaking about her award, Bukky said: "Just seeing my name among the list of the other nominees was really encouraging, so winning was such a pleasant surprise and honour.
"It was a lovely evening, networking with colleagues in the industry and learning what other nominees have done and accomplished within their organisations. It's only inspired me to keep going."
HR Director Penny St Martin attended the awards and praised Bukky for her "amazing drive and desire to help people".
She said: "I'm delighted that Bukky has got this richly-deserved recognition. Everyone who has ever worked with her will tell you what a special colleague she is, so none of us were surprised when she walked away with the award.
"I would like to congratulate all our nominees. Each one of you fully deserved your place on the shortlist. You all make a huge contribution to our work and inspire all of us to be better."