Awards
Hammersmith & Fulham Civic Campus wins People's Choice category in New London Awards
02 December 2020
Hammersmith & Fulham Civic Campus, a joint venture between A2Dominion and Hammersmith & Fulham Council, has topped a poll of more than 2,000 votes to win the People's Choice Award in the New London Architecture's (NLA) New London Awards.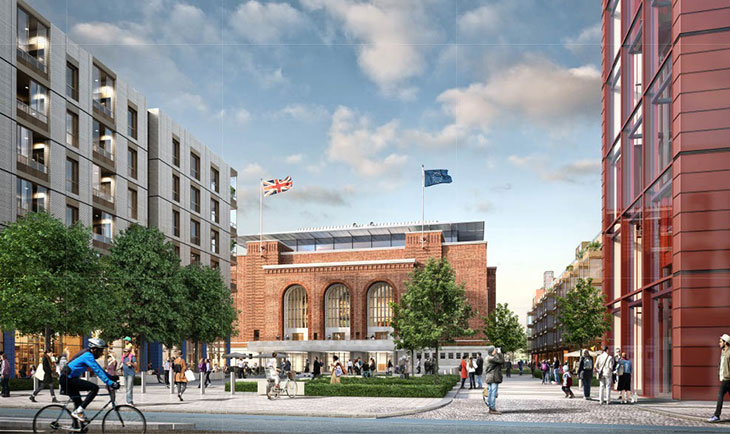 Hammersmith & Fulham Civic Campus
In association with the Mayor of London, the awards celebrate projects that create a sustainable, civilised and egalitarian city.
The innovative building project, designed by Rogers Stirk Harbour + Partners, came out top from an extensive shortlist spanning 13 categories of London's best new development proposals.
Voters praised the project for having "the community at its heart" along with its "high-quality architecture".
Inclusivity was another common theme among those praising the plans, with one member of the public commenting on the proposals' "ground-breaking inclusion" made possible through "coproduction that had never been seen before".
This was achieved through extensive consultation with Hammersmith & Fulham's Disabled Residents' Team, meaning the space will be among the most accessible in Europe when it is completed in Spring 2023. The developers also worked alongside environmental groups to increase energy efficiency across the whole raft of new buildings.
Doreen Wright, Commercial Director (Programme and Compliance) at A2Dominion, said: "We're delighted that the public have recognised the hard work that everyone's doing to deliver this excellent development. It's also pleasing that voters recognised the crucial work done in partnership with disability and environmental groups to make this scheme accessible and eco-friendly."
The scheme will deliver 204 new homes, of which around half will be shared ownership and social housing, along with new public piazza set in an attractive and extensive public realm. This public space will have play spaces, hard and soft landscaping throughout; and will see the return of a community cinema.
This impressive mix of quality of housing and amenities won praise from a further voter, who concluded: "The scheme has the authority required of a civic centre whilst retaining a practical and functional design. The scheme speaks to the people it will serve and will be a focal point for the community."