Development
Hammersmith scheme given green light
15 February 2019
Plans to breathe new life into west Hammersmith with the refurbishment of the Town Hall, hundreds of new homes and community facilities have been given the go-ahead.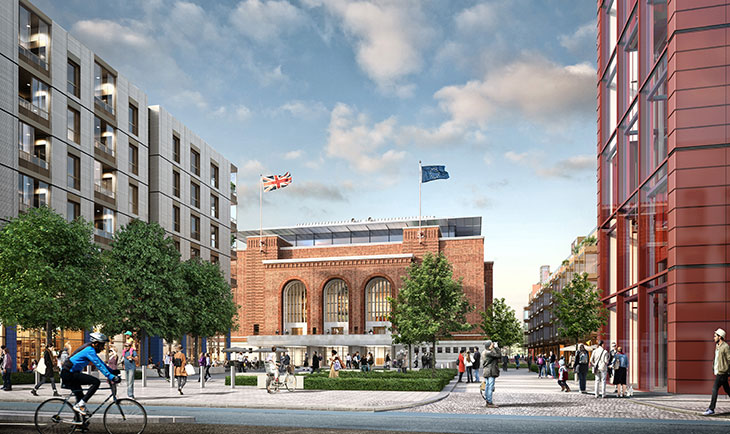 The planning application will revitalise the western end of King Street in Hammersmith.
Hammersmith & Fulham Council has approved the planning application to revitalise the western end of King Street in Hammersmith.
The plans, designed by renowned architecture firm Rogers Stirk Harbour + Partners, had been submitted jointly by the council and A2Dominion, a residential property group with a social purpose.
Cllr Stephen Cowan, Leader of the London Borough of Hammersmith & Fulham
said:
"This is an important moment in our mission to revitalise Hammersmith because it will breathe new life into the western end of King Street."
"The new four-screen cinema, new genuinely affordable homes, new public rooftop bar and restaurant and new public square are some of the factors that will rejuvenate the area and create a new Hammersmith neighbourhood.
"I am extremely grateful to our partners, the architects and particularly to all the local residents who helped make this scheme something I think everyone who cares about our borough will be extremely proud of.
"Those residents include the volunteers who led the independent Town Hall Commission, the volunteers on the Disabled People's Commission and the hundreds of local people who attended the four public exhibitions and took the time to advise us on many aspects of this project's design and function."
Darrell Mercer, A2Dominion Group Chief Executive
, said: "This exciting project is providing the opportunity to help address the shortage of good quality affordable homes in the west Hammersmith area and make better use of the land available. We look forward to working with our partners to deliver a project that will make a significant positive contribution to the borough and the people who live there."
Mark Rintoul, Project Architect. Rogers Stirk Harbour + Partners
, said: "The proposed Town Hall refurbishment and new build element secures the building's future as the civic heart of the Borough consolidating Council offices, functions and operations in one place. This is a confident intervention that respects the host building and completes its architectural expression. It is an opportunity for the positive renewal of West King Street and for a New Town Hall fitting of the Council's aspirations and ambition. A pioneering collaboration with multiple stakeholders and local amenity groups has defined this truly community led development - a civic campus with access for all."
Jane Wilmot from the Disabled Residents Team
, said: "This ground-breaking development to achieve a fully accessible Town Hall and civic campus is the result of the Disabled Residents Team working together with the Design Team led by Mark Rintoul of Rogers Stirk Harbour + Partners. Barriers faced by disabled people in using buildings and public open spaces were raised early before plans were submitted rather than left to detailed design at some later stage. This way of working together allowed robust solutions to be found early as well as saving time and money for the developer. This is most unusual and should be adopted in all major development projects. "It would not have happened without the Council's commitment and strategy of co-production working together with Disabled Residents."
The redevelopment will include:
204 new homes of which 52 per cent will be classified as genuinely affordable for local residents
A new four-screen cinema, with room for cafes, shops and restaurants
A new public rooftop bar and restaurant
New community art and event spaces
New affordable, flexible office spaces for start-up businesses
New corporate offices for an established business that will bring revenue and hundreds of new employees who'll be customers for our local shops, eating and drinking establishments
New public space in front of the restored Town Hall for performances and events
New homework spaces for children and students
Inclusively designed buildings to ensure full access for Disabled people
Eco-friendly buildings to minimise our carbon footprint and cut fuel bills
The planning application was approved following extensive consultation with the community, during which local people were invited to share their views and feedback.
The project team used the responses of local people to help shape and finalise the plans for the redevelopment.
With the planning application now approved, demolition work is due to begin in summer 2019, with construction starting on site in early 2020.