Awards
Inspirational community members honoured at annual Resident Awards ceremony
17 June 2019
Residential property group, A2Dominion has honoured the hard work and inspirational contributions of its residents and partners at their annual Resident Awards ceremony.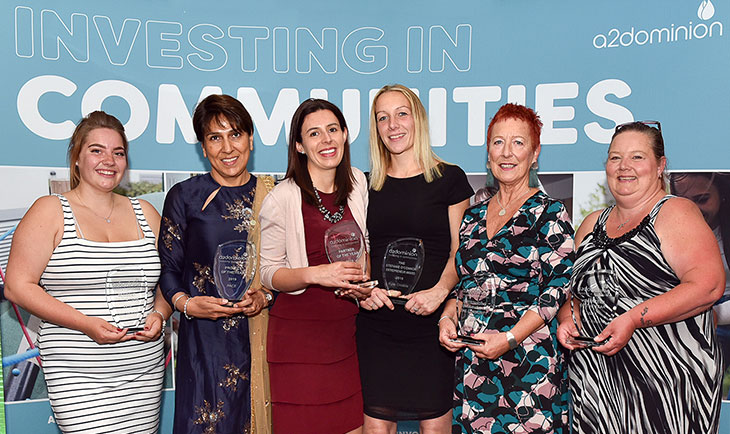 (L-R) Resident Awards winners Katie Jackson, Krishna Birdy (PACE), Emily Parkes (The Paddington Partnership), Kylie Crosby, Jane Clarke and Tina Baker.
Now in its seventh year, the A2Dominion Resident Awards recognises the commitment and achievements of residents, local community groups and partners. Through their tireless work and determination, they are instrumental in creating thriving communities and positively changing people's lives.
This year's ceremony was held at a special awards gala dinner on Friday 14 June at the Renaissance Hotel, Hounslow. The evening was enjoyed by over two hundred residents, volunteers and partner organisations from across London and the South East, and also included crowd-pleasing performances from local dance sensations, Havelock Street Dance and 'Agein' with Attitude'.
Dawn Wightman, Director of Housing Services at A2Dominion said: "These awards showcase the inspiring individuals and groups making a difference in their communities.
This year's finalists have gone the extra mile with their volunteering and impressed the judges with their flair, tenacity and commitment. They have invested hundreds of hours of their own time in working with us to improve services, creating meaningful and innovative projects and opportunities that improve people's lives.
"Over the past year, we have secured £187,000 in funding to support projects in our communities and I continue to be amazed by the commitment and motivation of individuals to improve their neighbourhoods. With their support over the past twelve months, A2Dominion has engaged with over 4100 people in health, wellbeing and financial inclusion projects, helped over 200 people with employment support and delivered 11 apprenticeships."
The award winners in full:
Resident of the Year: Katie Jackson, Guildford
Katie has worked incredibly hard at turning her life around and is a valuable member of the Care and Support Funding Panel. She has not only improved her own situation, but is now mentoring other young people and inspiring them to do the same.
Volunteer of the Year: Tina Baker, Sunbury
Tina volunteers each week to help prepare food for the community lunch and makes all people feel welcome and equal. She is a real asset to St. Saviour's Church and the support she gives to the community food bank and her dedication to the team is outstanding.
Project of the Year: Multi-sports with PACE
PACE Charitable Trust runs multi-sport and leisure sessions twice a month at the Havelock Community Centre, as well as Paralympic sport Boccia. Their valuable work promotes the inclusion and active participation of young disabled people in sports, leisure and social activities.
Partner of the Year: The Paddington Partnership
A2Dominion's Beethoven Centre has been working with Emily Parkes and The Paddington Partnership since 2018. During this time, they have provided volunteers to support numerous events including boat trips for social seniors, Halloween and Christmas parties, as well as painting and gardening projects.
The Stefanie O'Connor Entrepreneur Award: Kylie Crosby, Feltham
Kylie is a mother of three with a passion for being creative. Over the past 12 months, she has successfully continued to grow her 'Flowers by Kylie' business with her biggest hit, the 'Christmas Door Bow', making her a profit of over a £1000 in just two weeks.
Outstanding Contribution to the Community: Jane Clarke, Sunbury
Jane has been a committed volunteer for many years now and in particular, her contribution to the Digital DIY sessions in Ealing for the past 5 years has helped many residents change their lives by developing their digital skills.