Communities
Inspiring community members recognised at the Neighbourhood Awards
13 May 2022
The contribution our residents make to the local community has been recognised in the new 'Neighbourhood Awards'.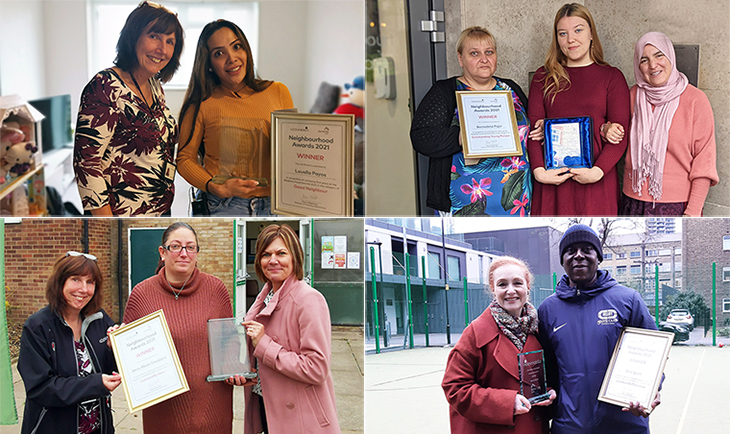 Meet the winners (clockwise): Louella Payos, Bernadeta Pajor (centre), Errol Grant and Anna-Marie Goodacre (centre).
The awards saw customers nominate fellow residents in four categories, Good Neighbour, Community Hero, Community Champion and Outstanding Young Person. The shortlisted finalists were judged by a panel of A2Dominion senior staff who chose the stand-out winners from over 50 inspiring nominations.
The 4 winners were revealed through a series of videos filmed on location at the unsuspecting winners' neighbourhoods over the past few months.
Meet the winners
Good Neighbour award - Louella Payos, from Sunbury on Thames (TW16)
Louella was nominated by her neighbour, Michaela Slark. Michaela suffers from Multiple sclerosis and Louella is there for her when she needs it most – and even drives her to doctors' appointments. Louella also frees up her time to complete daily errands for others in the community.
Louella said: "I feel really happy to win the Good Neighbour award and I am very thankful to my neighbours that they have actually picked me for that."
She added: "My community means a lot to me in way that they are like family to me."
Community Hero award - Anna-Marie Goodacre from Stanwell (TW19)
Anna-Marie was nominated by A2Dominion staff member, Lisa Brades, for her work supporting vital local projects, such as the Stanwell Foodbank and Stanwell Events.
Anna-Marie said: "It's really humbling to be the winner of the Community Hero award. I am very gracious and humble but again it is a team effort. Without our volunteers and our amazing team we could not achieve this."
Community Champion award – Errol Grant from Hackney, London
Errol was nominated by A2Dominion staff member, Caroline Wolff, for his work running youth activities, such as football and basketball sessions, for members of the community.
Errol said: "I am really honoured to be chosen as a community champion. I am surprised, I am taken aback, everything is good, I am really happy. We have football sessions, basketball sessions, cooking, all the necessary things we think will help young people in the community, the place where I live. The community is about everyone coming together to make it work, it can't be done by one person."
He added: "I want to support, I want to help, the community is where we learn so much about each other."
Outstanding Young Person award - Bernadeta Pajor, from Westminster, London.
Bernadeta was nominated by her friend and neighbour Nassima Bouguelil. Bernadeta supports Nassima by taking her autistic daughter to and from the play centre. She also shops, collects parcels and even litter picks to assist the community.
Bernadeta said: "My main motivation to help is the satisfaction I think, from having someone thank me for doing it. I know it does not seem like a lot but a simple thank you can go a lot and plus it helps me with how I feel about my life in general. It makes me feel like I actually do something, so I am worth something."
Dawn Wightman, Director of Housing Services at A2Dominion, said: "The Neighbourhood Awards showcase the inspiring individuals making a difference in their communities. This year's finalists have gone the extra mile with their volunteering and impressed the judges with their spirit and commitment to their neighbourhoods.
"They have invested their own time to improve services, create meaningful and innovative projects and opportunities that improve people's lives. We're very proud to recognise their wonderful contributions."
You can watch 
t
he video below to find out more about the awards and our winners.