Corporate
£80m joint partnership with Crest Nicholson to deliver more eco-homes
21 August 2017
Leading developers A2Dominion and Crest Nicholson have unveiled plans for their latest joint venture partnership. The £80m residential scheme is a continuation of A2Dominion's existing Elmsbrook development, part of the UK's first eco-town in North West Bicester, just an hour from London.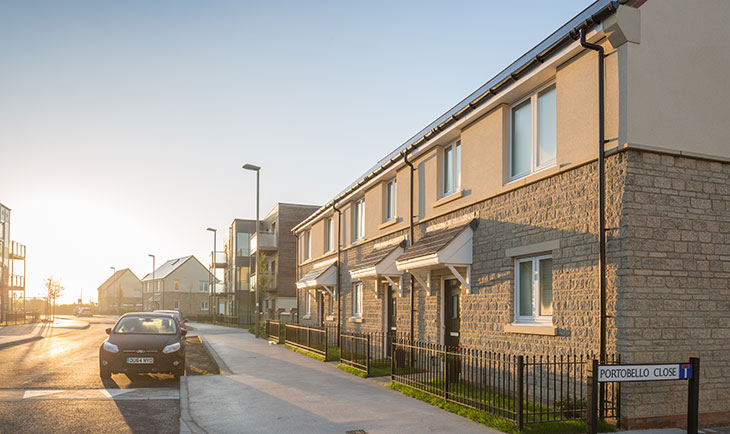 Elmsbrook, the first phase of the NW Bicester development, enables sustainable living
The strategic partnership is set to deliver 232, two, three, four and five-bedroom eco-homes over the 25-acre site as part of the exemplar phases of the Elmsbrook development in Bicester. Of the new homes, 30% will be reserved for affordable housing, while the remaining homes will be available for private ownership.
Built to the highest specifications, A2Dominion's current development offers customers eco-efficient properties and sustainable community living with the homes for sale sold via its FABRICA by A2Dominion brand. The new homes developed by the joint-venture will benefit from the rain water harvesting systems, electric car charging points and an electric car club and will also be heated by a district heating network connected to a CHP energy centre. The energy centre generates electricity that goes to the grid and ensure that the scheme provides more energy than it uses.
Nick Hutchings, Executive Director (Commercial) at A2Dominion, commented: "We're looking forward to working with Crest Nicholson to expand on the work we've done at Elmsbrook. We're committed to developing homes that not only allow residents to enjoy sustainable living but that also prioritise high quality design innovation. Our collaborative and forward-thinking approach will be key to offering sustainable living and greener futures."
Construction for the next phase is due to begin on-site in spring 2018, with the first residents moving in to their new homes in spring / summer 2019. In total, the joint venture project is estimated to last four years, with a final completion date of spring / summer 2022.
Chris Tinker, Board Director at Crest Nicholson, commented: "The project is a long-term strategic partnership and we look forward to working closely with the A2Dominion, Cherwell District Council and key local stakeholders to ensure a smooth delivery on site. This £80m joint venture project will create much needed new homes and community space for the Bicester region, as well as new jobs to boost the local economy."
For more information on Elmsbrook please visit
www.fabrica.co.uk/elmsbrook-bicester-ox27