Community
New extra-care housing scheme for older people takes shape
05 April 2017
A2Dominion's and Reading Borough Council's new extra-care housing scheme for older people in Caversham is taking shape.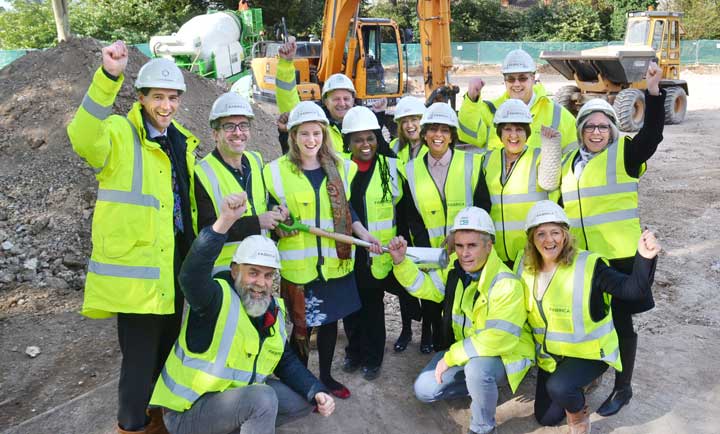 Beechwood Grove will provide 43 flats for older people
Work is progressing on the homes at 1 Albert Road, Caversham, offering older people a combination of as much independence as possible but with care and support on site as needed.
Named Beechwood Grove, the accommodation is being constructed in partnership with A2Dominion and contractors Feltham Construction, on the site of the former Arthur Clark Residential Home and Albert Road Day Care Centre in Caversham.
Demolition work began in February and piling work is now 75% complete. The building itself will begin to take shape over the coming weeks.
When complete, Beechwood Grove will provide 43 flats for older people with an onsite care provider. As the population in Reading ages homes like this will meet the need of a mix of residents, 16 of those apartments will be rented and the rest will be leased.
In addition, communal facilities and activities will benefit older people in the local area as well as residents. This will include specialist Day Activities as well as a café and a range of community activities with the plan to include music workshops, arts & crafts, wellbeing activities, exercise classes, dementia activities, gardening club, computing and internet training. There will also be a hair salon and therapy treatment specialising in supporting older people which will be made available to book by local people.
Beechwood Grove is expected to open in Autumn 2018.
Lead Member for Adult Social Care, Cllr Rachel Eden, said:
"Beechwood Grove will offer people the best of both worlds –living in the local community, with help and support on site and at the touch of a button, 24 hours a day, seven days a week.
"The way we grow older is changing. Every survey tells us people want to continue to live independently for as long as possible. When open, Beechwood Grove will offer purpose-built individual homes for older people who want to continue to live fulfilling and active lives but with increased support and care on hand when they need it."
Lead Member for Housing, Cllr Richard Davies, said:
"As a Council we were determined to ensure that day activities on offer here would be made available for all elderly people living in the local community in Caversham, not just extra care residents at Beechwood Grove. I am delighted to say that will be the case and I'm sure a lively social circle will quickly develop when the doors open.
"I am also pleased that the Council has negotiated 16 of the 43 homes for social rent. There is a desperate shortage of properly affordable rental homes in Reading as everyone knows.
"Every one of those 16 homes will make a big difference to the people that occupy them."
Steve Coggins, A2Dominion Group Regional Development Director, said:
"We are excited that work to transform this site on Albert Road is progressing to create a new extra housing scheme for Reading.
"A2Dominion's specialist Care & Support team has a strong track record of working successfully with local authorities to deliver excellent care and support services."
The Group has also secured a new care and support contract in West Berkshire.