Communities
New forest school opened at our development in Bicester
19 May 2022
A new community forest school has opened at our Elmsbrook eco-town in Bicester.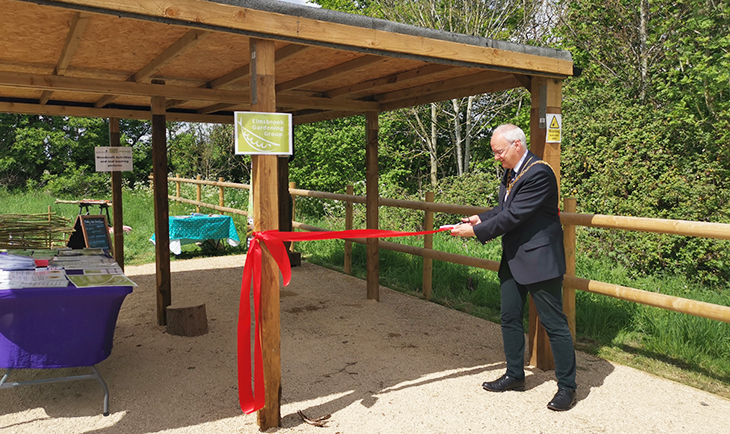 Bicester Town Mayor, Cllr Nick Mawer, at the launch.
Bicester Town Mayor, Cllr Nick Mawer, officially launched the new forest school next to the Gagle Brook Primary School on 7 May. He was joined at the ceremony by local residents who planted native trees donated by the Woodland Trust.
The Elmsbrook Community Forest School provides the opportunity for children, young people and community groups to have a hands-on learning experience in a natural environment.
Elmsbrook is a scheme which formed the initial phase of the UK's first true carbon-zero development.
A2Dominion, in partnership with the active local community group, Elmsbrook Community Organisation (ECO), secured funding from the Ministry of Housing, Communities and Local Government in 2020 for the forest school.
Since then, we have been working with ECO, local residents and Gagle Brook Primary School to design and build the forest school.
Local primary school children entered a competition to design the logo for the school, with six-year-old Harry Sims' design chosen as the winner. He was presented with his certificate and £50 gift voucher for his efforts.
Val Wright, A2Dominion Communities Partner, said: "We are thrilled to have opened the Elmsbrook Community Forest School, teaching children, young people and parents small steps and activities they can take away and implement back in their own communities.
"There have been lots of obstacles to overcome to get to this point, including Covid. We were also delayed by the return of badgers to the area just as work was about to start. We waited until after the badgers' breeding period had finished and the young had moved away. We are pleased to finally open the community forest school and look forward to seeing it flourish and the community enjoying it."
The forest school was designed by local company, Applied Landscape Design, whose staff donated their time for free, and built by Just Ask.
A steering group made up of residents, grounds maintenance contractor Smarter Services and representatives from the Gagle Brook Primary School has been set up to manage the community forest school and ensure it achieves its objectives.
A2Dominion's Great Places to Live Fund has also funded training for a teacher from Gagle Brook Primary School in forest school skills.