Development
New hospital accommodation approved for Oxford NHS staff
09 November 2019
Two planning applications have been approved for 144 new flats for NHS staff by Oxford City Council.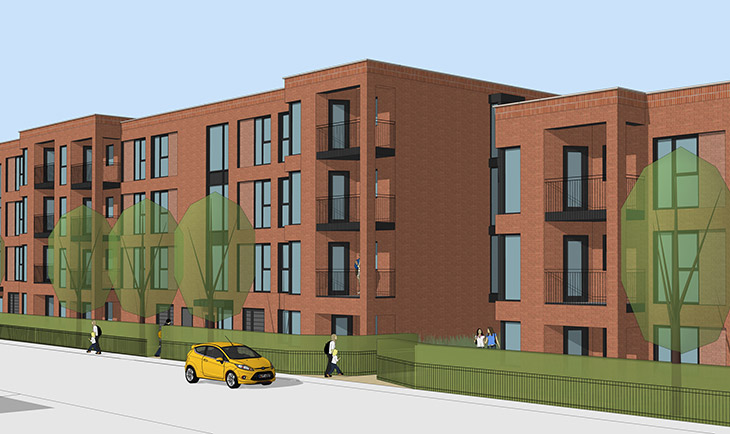 Churchill Drive
Residential property group A2Dominion, working with Oxford University Hospitals (OUH) NHS Foundation Trust, will build 125 flats in Ivy Lane for John Radcliffe Hospital and 19 in Churchill Drive for Churchill Hospital.
The existing accommodation is dated and does not meet the expectations of staff. The new modern accommodation will be better designed and provide attractive facilities such as en-suite bathrooms.
The construction of the homes will require the demolition of the original hospital accommodation at Ivy Lane, creating an additional 51 new homes once rebuilt.
Jim Smith, A2Dominion's Development Manager, said:
"We are keen to get started on developing the new accommodation for OUH staff.
"We are committed to contributing to the communities that we work in, and the redevelopment and expansion of the existing accommodation in the city will support the Trust's staff."
Jane Nicholson, Interim Chief People Officer at Oxford University Hospitals NHS Foundation Trust, said
: "The Trust is delighted that A2Dominion's planning applications to expand and modernise our onsite staff accommodation at the John Radcliffe and Churchill hospitals have been approved.
"We want to do as much as possible to help our new staff settle into the area, and onsite housing is absolutely crucial for us to recruit and retain new staff from outside Oxfordshire.
"This plan will provide high-quality, low-cost accommodation within walking distance of the hospitals. It also enables us to offer our new recruits modern and comfortable places to live while they get to know the area and make informed decisions about their long-term housing opportunities."
The Churchill Drive flats are due to complete in 2022, with Phase 1 of Ivy Lane scheduled to start in 2022 and be completed by 2025.