Corporate
Our annual report for 2022 shows strong delivery on new homes
20 October 2022
A2Dominion has delivered 971 new homes in the last 12 months and achieved a net surplus of £42.1 million, an increase of £35.7 million from the prior year on the back of an increase in turnover of over 50%, according to our latest annual accounts.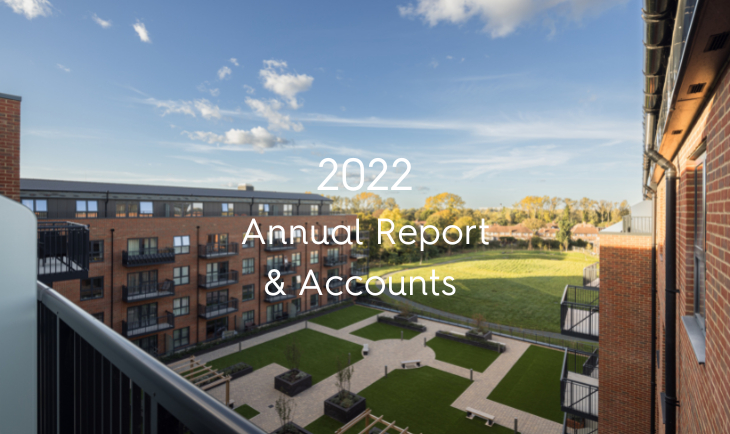 971 new homes were completed this last year, against a target of 953
We have seen a return to delivering a strong underlying operating surplus whilst still increasing investment in maintenance and safety. This growth will vary in future years in line with our development pipeline.
971 new homes were completed this last year, against a target of 953, despite the challenges in construction, materials, and labour shortages, with over half being affordable tenures.
We prioritise customer communications, as demonstrated by a customer satisfaction score of 81.9% in the last year, exceeding target. We also monitor the effort customers put into interacting with us, and this remained low at a score of 3.8, which was better than target, the national benchmark of 5.2, and in line with the previous year.
The last year saw us maintain our A credit rating with Fitch, which enables investors to have confidence in the ongoing strength of the organisation. We also maintained a regulatory rating of G1/V2 confirmed via an In-Depth Assessment.
A2Dominion Group's Executive Director (Central & Financial Services) and Deputy Chief Executive, Anne Waterhouse, said:
"We continue to show clear financial resilience, which means we can attract the investment needed to maintain our existing homes, alongside our new homes programmes. The current external economic environment creates challenges for our organisation and our customers, so our focus is on this financial resilience, and that our customers are safe and secure in their homes."
Overall, we now manage over 39,000 homes across London and southern England, with 3,300 homes in the development pipeline. All profits generated are reinvested into supporting our social purpose, and we have achieved £11 million in social value from additional support given to customers and communities against a target of £8 million (and up from £9 million last year).
Key highlights from the report
Deliver customer-led services for residents and communities
Customer satisfaction of 81.9% ahead of a target of 81.5%
How easy we are to deal with: we achieved a score of 3.8 (lower scores mean lower effort and so are more positive) against a target of less than 3.9
Generated £11m in social value, 37% higher than our target of £8m
Won a TPAS award for 'Excellence in Engagement in Support and Care' for our supported living scheme, Bramlings House
Protect and grow our business
Regulatory rating of G1/V2
Maintained our A credit rating with Fitch
81% employee engagement
Launched our second Environmental, Social and Governance report
Provide new high-quality homes and places
971 new homes completed
540 homes started on site
3,300 homes in development pipeline
87% of new home customers would recommend us to others
Continued partnership to help deliver the Greater London Authority's (GLA) Affordable Homes Programme
Effectively manage our existing homes and places
88% satisfaction with responsive repairs services, above our target of 85% and in line with the 88% reported last year
Low rent arrears of 3.3%
£960,000 allocated to reduce carbon pollution – to be increased to £1.7m in 2022/23
80,000+ responsive repairs carried out through our contractors and our joint venture partnership.
Read our annual report 2022