Development
Phase two of construction underway at Boston Road in Hanwell
10 November 2021
Construction has started on the second phase of our Boston Road development in Hanwell, West London.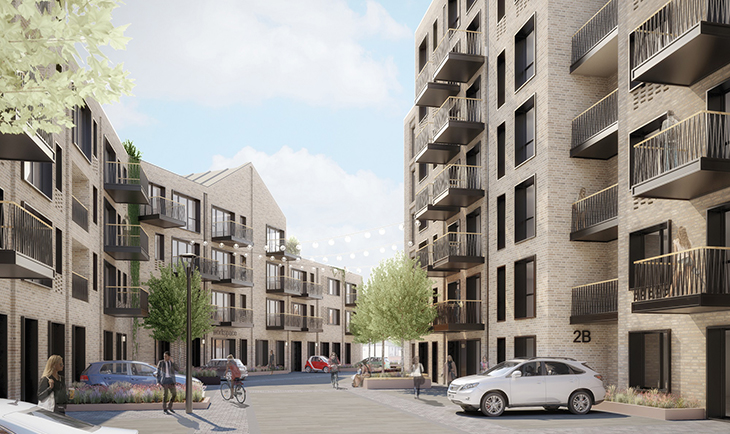 Boston Road
The development, which is the first joint venture project between A2Dominion and Higgins Partnerships, will see 169 units delivered as part of the second phase, of which 110 will be private sale, 20 Shared Ownership and 39 for affordable rent.
Higgins Partnerships and A2Dominion established a joint venture vehicle in 2020 in the form of a limited liability partnership, with each member owning a 50% stake and bringing their own resources and expertise to deliver a successful joint venture.
The properties have been designed in three blocks, featuring contemporary soft brickwork, which will contrast against the dark frames of the shop frontages and successfully complete the 'village square' design. On the ground of the three blocks, the 1,200 sq. metres of flexible workspace will provide job opportunities for start-ups and drive footfall to the area.
Danny Lynch, Director of Special Projects at A2Dominion, said: "The second phase of this development shows once again our commitment to bringing high-quality new homes to Ealing. Alongside Higgins Partnership, we're also proud to have contributed to good causes in the borough, including the donation of vital IT equipment to a local primary school and helping to fund a local community garden – demonstrating that we are determined to support the people who live in the areas where we work.
"We are looking forward to continuing this successful partnership with Higgins and continuing to bring to life the excellent design of Asseal Architects."
Declan Higgins, Partnerships Director at Higgins, added: "We are now 18 months into our joint venture and proud of what we are delivering at Boston Road. As well as much needed new homes for the local area, we are enhancing the existing residential area by providing shops, cafes and restaurants as well as a new village square and generous amenity space such as garden terraces, play space and rooftop gardens."
The planning scheme for Boston Road was designed by Assael Architects and the delivery architect is Fourpoint Architects.