Corporate
Professor Chris Whitty visits Elmsbrook in NW Bicester as part of Health Place Shaping programme
23 November 2022
Professor Chris Whitty, England's Chief Medical Officer, was welcomed by colleagues to A2Dominion's Elmsbrook development in North West Bicester on Friday 18 November and saw first-hand the steps we are taking towards healthier and sustainable living.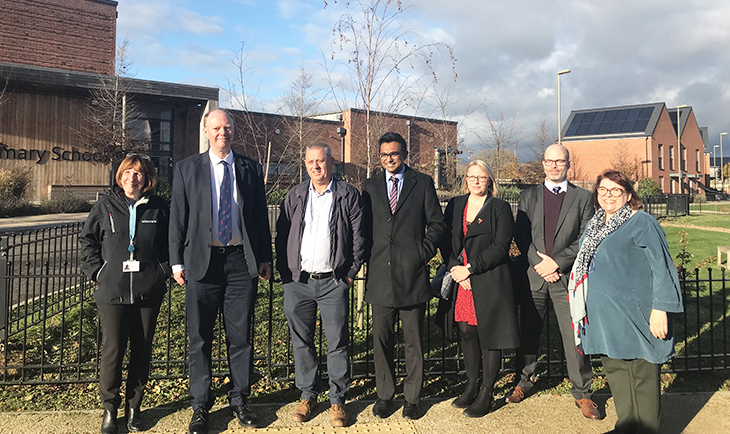 (L-R) Val Wright, Professor Chris Whitty, Steve Hornblow, Ansaf Azhar, Cllr Donna Ford, Ian Boll, Nicola Riley
Professor Whitty was given a guided tour of our award-winning zero-carbon site, as well as other projects across Oxford and Bicester, as part of the wider Health Place Shaping programme.
The initiative aims to create sustainable, well-designed and thriving communities, where all residents are supported to live healthier and happier lives.
NW Bicester featured in the Healthy New Town pilots, and this helped to inform Oxfordshire's approach to the Healthy Place Making programme that it is now being delivered across the county to help reduce health inequalities.
Steve Hornblow, Head of Special Projects (NW Bicester) at A2Dominion, said: "Everyone at A2Dominion was delighted to welcome Chris Whitty to our award-winning Elmsbrook development at NW Bicester. Elmsbrook was featured as a case study for the Healthy New Towns programme.
"England's Chief Medical Officer is one of the leading figures in promoting healthier living and his visit provided a great opportunity for us to showcase our commitment to building sustainable homes for the future, and ensuring that health and wellbeing is a lasting legacy of our communities."
Elmsbrook comprises of 394 energy-efficient homes and forms the exemplar phase in building the UK's first eco-town, which upon completion will create 6,000 homes.
Professor Whitty also joined representatives from Oxfordshire County Council, Cherwell District Council, Oxford City Council, community groups and developer Grosvenor Estates, at other projects in Oxford and Bicester, including visits to Barton Sports Pavilion and Community Centre, Kingsmeadow and Barton Park primary schools.
Councillor Liz Leffman, Leader of Oxfordshire County Council, said: "I am delighted to have been able to welcome Chris Whitty to the county to showcase our health place shaping work.
"Tackling inequalities and creating healthy communities is a top priority for the Fair Deal Alliance administration, so it is great to see our work receive recognition from the Chief Medical Officer for England."