Stunning seasonal murals created at Green Man Lane
05 April 2023
Two stunning murals have been created at our Green Man Lane estate in the London Borough of Ealing after we ran a competition for artists and residents.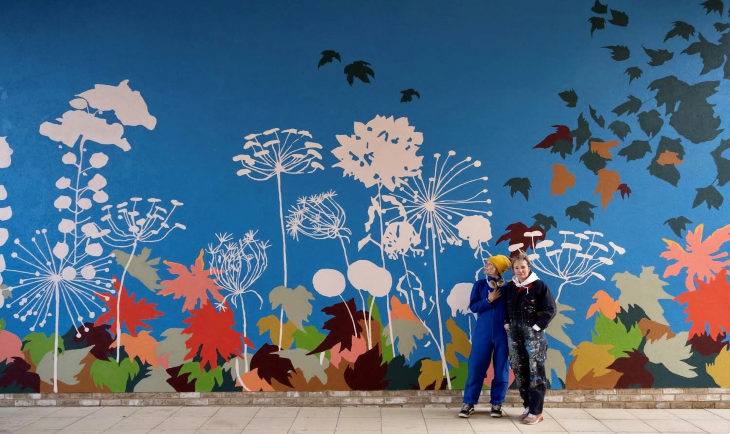 Artists Clara Wilkinson and Mary West
The hand-painted murals take inspiration from the changing of the seasons, with spring and autumn themed designs bringing a splash of colour to the central pedestrian route.
The first mural was created by multidisciplinary artist Frankie Strand and her vision puts nature at its heart, with the design capturing some of the emerging signs of life that come with the beginning of spring.
The spring concept is located on the wall of a gateway to a central landscaped courtyard and portrays seasonal plants such as hyacinths, crocuses, tulips. While birds, including swans and robins also feature prominently.
Frankie said: "I really enjoyed working on the spring wall project, it was great to have such a large wall to work with, featuring so many plants I love to see coming out in the springtime.
"I hope people enjoy it and perhaps take inspiration, whether that's creatively, within your gardens, or perhaps encouraging kids to notice things featured in the mural in the wild. Spring flowers are such a welcome sight after a cold winter, take pleasure in the small things, like the first sightings of crocuses."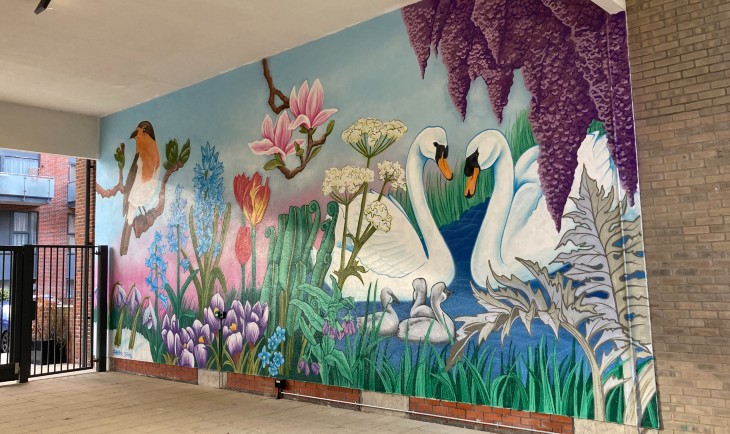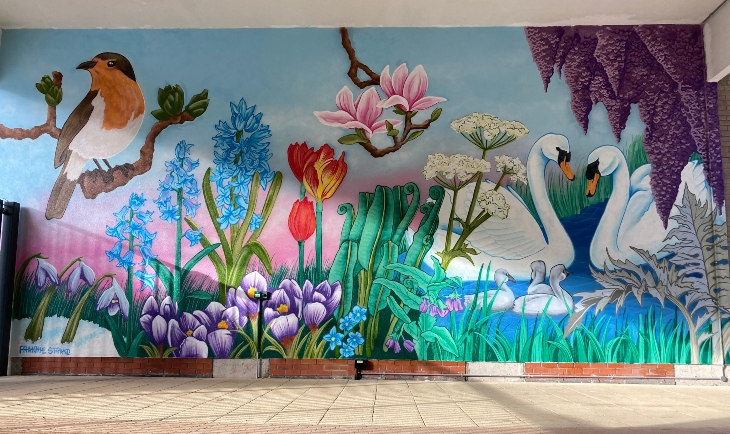 The second mural takes on an autumnal theme and was created by the Living Wall Murals team of Clara Wilkinson and Mary West. The bright and modern design is located at the western gateway to the central courtyard and is inspired by the orchards that were located at the Green Man Lane site centuries ago.
The mural features autumnal wild flowers, grasses, dried seed heads and bright coloured leaves synonymous with the season.
Clara and Mary said: "We love the way it makes it such a joyous and uplifting space. Many residents stopped and commented on how beautiful it was. We feel that adding nature-based imagery to an urban environment has an astonishing effect on the atmosphere felt by all."
All residents were given the opportunity to vote for their favourite design from a selection of entries. They were then entered into a prize draw for a chance to win a framed print of the artists' designs.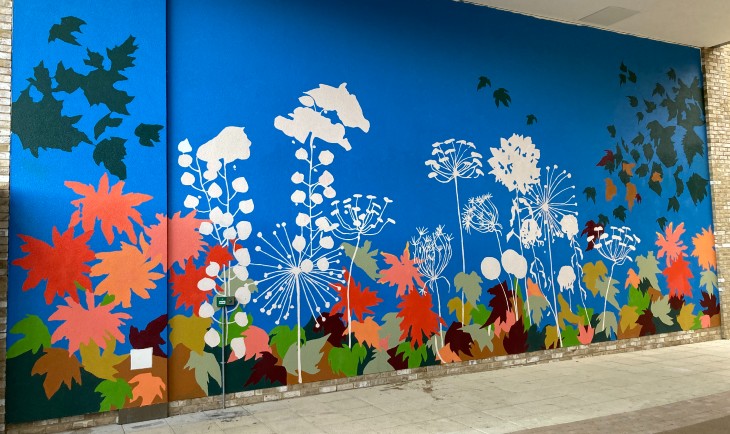 Green Man Lane residents and competition winners, Juan and Ingrid, said: "We really like both murals as they are a true reflection of the respective seasons. There is a great selection of colours and images. It's very and nice to look at, it certainly makes the spaces a lot more lively and pleasant."
The Green Man Lane development is an exciting regeneration project that replaced an outdated 1970s estate of 464 homes. The new neighbourhood will provide up to 945 modern homes, along with a new primary school, landscaped courtyards, community spaces, and a neighbourhood wide heat network.
The regeneration at Green Man Lane is being delivered in a joint venture partnership with developer Real. New homes on future phases are available through FABRICA.