Sustainability sculpture goes on display at the Beethoven Centre
05 May 2023
A sculpture celebrating the sustainability of Westminster has gone on display at the Beethoven Centre.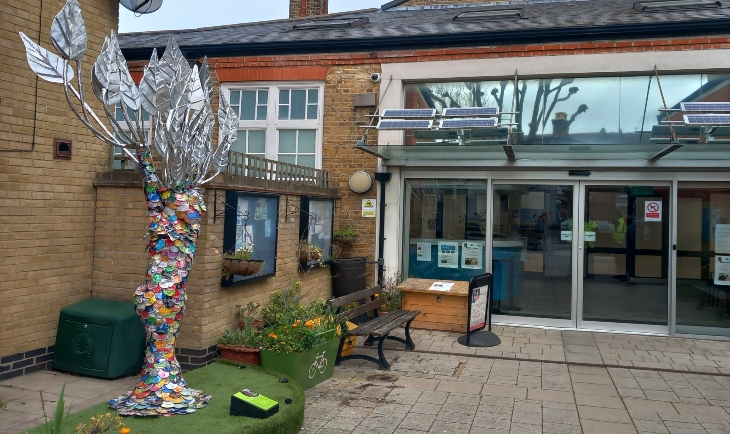 The Tree Goddess by artist Faith Bebbington
The Tree Goddess by artist Faith Bebbington, commissioned by Veolia, is made from more than one thousand cans collected from events in the West End.
The Sculpture was part of last year's
Brighter Future arts festival in Westminster
and is now touring sites across London, including our community centre.
Beethoven Centre Manager, Martin Peace, said: "We're delighted to welcome the Tree Goddess to the
Beethoven Centre
. We have been inspired by the beauty of the sculpture and what it represents.
"We are looking at ways we can improve the local environment, working closely with Queen's Park Community Council, who are based in the centre, and other local community groups on their environmental campaigns."
Commissioned by Veolia, and developed in partnership with Art of London, the Tree Goddess touches upon the possibility of change towards a more sustainable future and away from our wasteful society.
Standing at three metres tall, Tree Goddess incorporates more than one thousand aluminium cans collected locally and shows the power of recycling and sustainability.
Faith Bebbington aims to encourage people to see 'waste' in a new light, demonstrating its utility and creative possibilities.
You can visit the Tree Goddess at the Beethoven Centre, Third Ave, Queens Park W10 4JL until Tuesday 9 May.