Corporate
The key to partnerships and placemaking: Insights from HOMES UK 2019
04 December 2019
More than 6,000 attendees gathered at this year's HOMES UK conference at ExCel London, with two members of A2Dominion's leadership team delivering insights to guests from across the entire housing industry.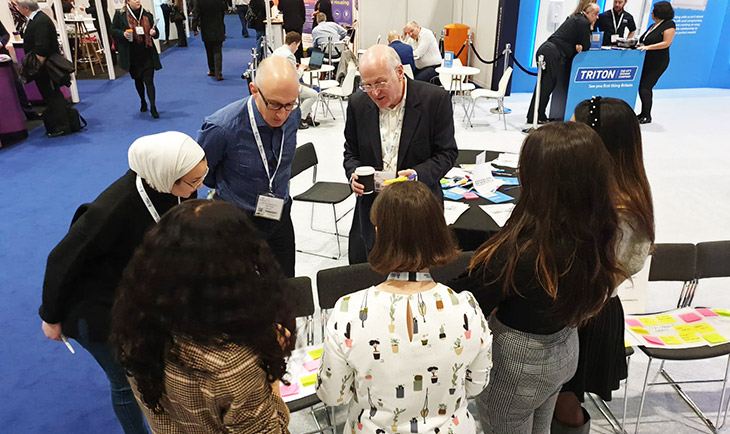 Homes UK
The Group was a major sponsor of the event, showcasing its expertise in sustainable housebuilding and developing successful joint venture relationships.
Day one
Nick Hutchings, A2Dominion's Executive Director (Managing Director, Commercial) brought his knowledge to the table on day one of the event during the 'Placemaking in partnership: The essential ingredients for a successful JV' session.
Nick joined a line-up of speakers including Wendy Stokes (Stokesduncan) and John Murray (Airey Miller) for a panel discussion, which was chaired by Declan Higgins (Higgins Construction).
When asked for his thoughts on factors that contribute to an effective partnership, Nick's comments underpinned A2Dominion's position as an organisation that has delivered award-winning JV schemes.
"One of the key drivers of success is about finding a partner that is completely transparent, open and honest with you" he said. "It's really important you have clear objectives from the beginning and to ensure that everyone buys-in and supports them."
He also highlighted the Group's JV partnership with housebuilder Nicholas King Homes, with which it shares four schemes. "A2Dominion has brought a lot to the partnership, including design, construction management and sales skills. We've built up trust and it's a very transparent relationship that's been very successful," he said.
Day two
A2Dominion Group Chair Ian Cox kicked-off day two of the event in the morning's MOBIE Charette session, where he provided architecture and planning students with inspiration and guidance on their designs for the 'Home of 2030'.
Ian also joined the 'Placemaking, infrastructure and sustainable growth session', alongside chair Patricia Brown (Central) and panellists' Iain Painting (Barton Willmore) and Jennifer Ross (Tibbalds), where he discussed how the Group's approach to development focuses on long-term benefits to the community.
Ian said: "At A2Dominion, we take a long-term view with the developments we build. It's not just about the buildings; it's creating a sense of place and about what we can facilitate to create communities in a sustainable way.
"Our goal is not just about being responsible for the homes. We can, and often do, have a role in many aspects of our residents' lives, from health to financial support."
To find out more about A2Dominion's work, view our
corporate video
.