Christmas Gift Project to provide up to 1,000 vulnerable customers with a £20 voucher
19 December 2022
We are providing up to 1,000 of our vulnerable customers with a £20 voucher to spend at Tesco or Sainsbury's this Christmas.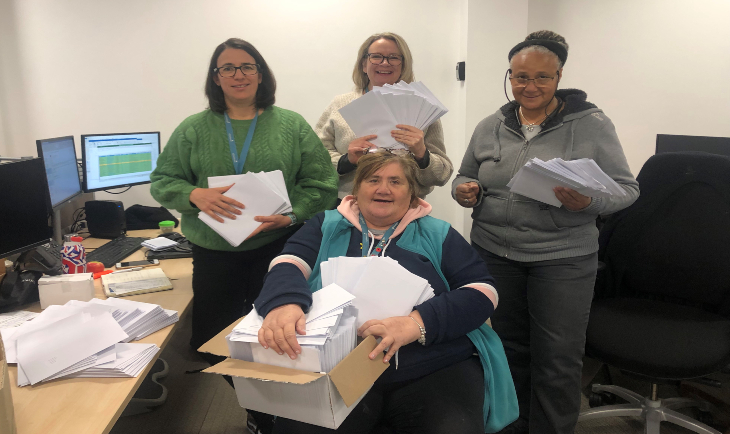 A2Dominion colleagues sending out vouchers
The annual Christmas Gift Project is especially important this year due to the rising cost-of-living and aims to help those who need it most during the festive season, including our customers who are struggling financially and those who are alone at this time of year.
A2Dominion and more than 10 supporting organisations are set to donate up to £20,000 towards the voucher scheme.
The Christmas Gift Project supported more than 800 residents with vouchers in 2021 and the initiative has taken on a variety of forms since it was created in 2003. In previous years, vulnerable customers have been supported with festive food hampers and Christmas gifts, but since the Covid-19 pandemic, delivering vouchers was deemed the safest method to ensure this vital project can continue.
Julie Brooker, Communities Partner (Social Value) for Homes & Communities at A2Dominion, runs the Christmas Gift Project and her team have been busy packing envelopes to send onto our customers. She explains how the initiative is making a difference.
Julie said: "The Christmas Gift Project is so important because it helps to support so many vulnerable people during the festive period. Sadly, many recipients often don't have family or friends to spend Christmas with, so this gift can help bring some festive joy into their lives and let them know we are thinking of them during this time of year."
Previous recipients of the voucher have put it towards the trimmings for their Christmas dinner, their utility bills or even a small present for a loved one.
Our housing officers nominate residents to receive a voucher. Priority is given to those within care & support, single people, the vulnerable and couples.
This year donations for the Christmas Gift Project have come from A2Dominion Group, A2Dominion Staff, Pyramid Plus South, Pyramid Plus London, Axis, Travis Perkins, Rose Property, Checkers. Advance Maintenance, TSG, Smarter Services, Mitie and Just Ask.