We celebrate 'Starts at Home Day' 2023
04 September 2023
This year colleagues marked Starts at Home Day at two of our newest support services.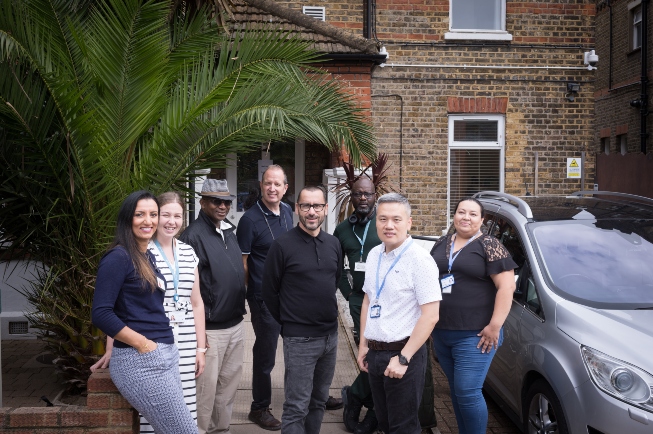 Our colleagues and residents at Brentside Cottage
On Friday 1 September, colleagues from Specialist Housing took part in an annual event that champions the role of supported housing by showcasing our schemes in Ealing and Newbury.
Our Ealing Homelessness service is spread across two sites, with nine shared accommodation units on Newburgh Road and four units at Brentside Cottage.
The service is available to adults who are often in vulnerable circumstances, and we support residents on their way to live healthy and independent lives. Colleagues were joined on the day by Ealing Council's commissioner for supported accommodation.
Jo Evans, Director of Specialist Housing, said: "We're proud to once again support Starts at Home Day and highlight some of the great work our colleagues are doing to help those in vulnerable situations.
"This year has been particularly challenging for our residents as well as colleagues amid the growing cost-of-living and today shows how vital these services are to the local community."
Keon York, 68, has lived at Brentside Cottage since February 2023, and is full of praise for colleagues who have helped him with his health, budgeting his money, and with his search for permanent accommodation.
Keon was previously homeless for eight months in 2019 before the local council helped him to find a studio flat. However with the rising cost-of-living, Keon then struggled with his finances and faced being homeless again. It was not until he found our supported scheme in Ealing when he started to turn his life back around.
He said: "Services like this are very important when you consider where I was. I was struggling and got a little depressed because I never had anyone to help me – I was on my own for 18 months."
Keon added: "Having people to talk to you, I've never really had that support from most of the other places I've been, it makes a lot of difference."
Colleagues also showcased our new site for unaccompanied asylum seeking children in Thatcham. Residents moved in this summer and the scheme forms part our community work and helps to ensure those in vulnerable circumstances have a safe place to call home.
Our UASC service started in 2021 and has now expanded to include sites in Reading and Oxford. Colleagues also provide support to residents by signposting specialist services to help them with their asylum application and integration into society.