Corporate
International Women's Day - A day to celebrate women
06 March 2020
International Women's Day, on 8 March, is a global day celebrating the achievements of women, raising awareness against bias and taking action for equality.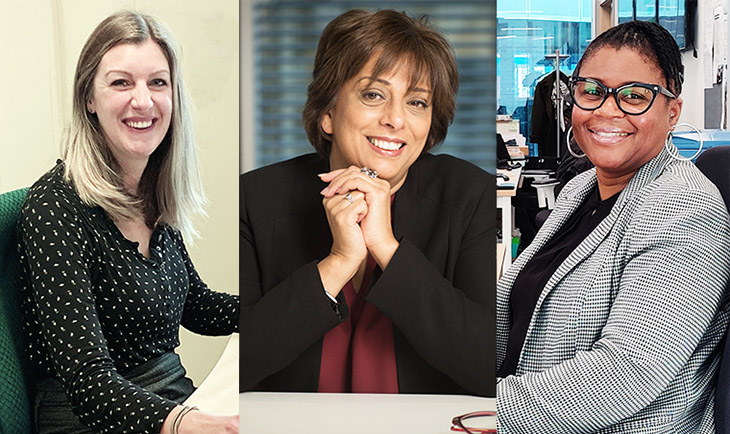 International Women's Day 2020
At A2Dominion we are committed to promoting equality, diversity and inclusion to make sure that we treat everyone fairly.
To celebrate this year's International Women's Day (IWD), some of our inspiring female role models have decided to share their thoughts and advice about their careers.
Pam Vasir, Director of Supported Housing, said: "I started working in housing and more specifically in Care & Support, never believing I would make it a career, but here I am nearly 40 years later! Determination and my passion to improve the lives of the most vulnerable has been my motivation. My advice to other women is to be self-aware, appreciate, support and learn from others."
Karen Reid, Head of Business Development, has two young children meaning she can go from attending a commissioning meeting one minute, to sewing a World Book Day costume the next. She says although juggling priorities can be a challenge, A2Dominion and the team around her, help her to strike the right balance between work and home.
Research shows that some women can be scared to apply for senior roles, particularly if they don't feel they meet all the criteria. Karen said: "When I applied for my role as Head of Business Development, I remember reading an article which suggested that women will only apply for a job if they feel they meet 100% of the criteria, whereas men will apply if they meet 60%. Remember that ladies and have confidence in yourselves! I am so proud to work alongside a team of talented and strong women in the Care & Support senior management team and wider Group."
Valentina Stone, 1
st
Line Service Desk Team Leader, has worked in our IT department since 2008 and thinks it's a great industry for women to get into. She said: "It's great to see women in 'predominately male-dominated' industries and it's a great time to see the tide changing within both our organisation and across the globe. Women bring a skill set to the table that you cannot always define, and nor should you!"
A2Dominion continues to champion diversity in the workplace, building a supportive framework for everyone to progress their careers.
To find out more about
working with us
, see our
current vacancies
or discover more about our
career programmes
, visit the
careers section
.