Awards
Two A2Dominion developments win awards for workmanship
23 November 2021
A2Dominion's Western Avenue and Boston Road developments, both in Ealing, were among the recent winners in the Local Authority Building Control (LABC) Warranty awards.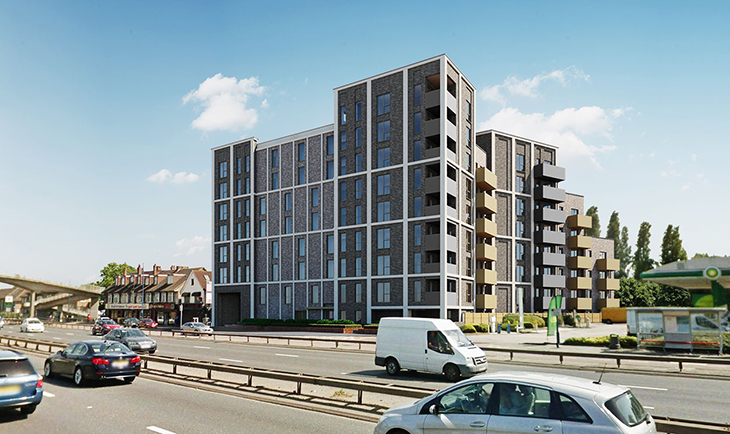 Western Avenue development
The awards, called
The Bricks
, recognise "the quality of workmanship and site management" on developments across England and Wales.
For the Western Avenue site A2Dominion received the accolade alongside Bugler Developments Ltd, who are working on site having been named on
A2Dominion's framework of preferred building contractors
earlier this year.
Western Avenue is a 100% affordable scheme that will deliver 58 new homes close to Perivale Underground Station in Ealing when construction is completed in July 2022.
Commenting on the award for Western Avenue, A2Dominion Project Manager, Technical & Commercial, Sophia Briggs, said: "It's fantastic that this excellent development is being recognised.
"Bringing high-quality, affordable homes to the parts of London that need it most is central to what we do. And Western Avenue is a great example of what can be achieved working alongside top quality construction partners like Bugler Developments."
The other winning development, Boston Road, is A2Dominion's first joint venture project with Higgins Partnerships and in its second phase of development.
It will deliver 360 new homes to Hanwell in Ealing; a mixture of private, shared ownership and affordable rent. Split over three blocks, the development will see the local area transformed with shops, cafés and restaurants, as well as a new village square situated just minutes from the Elizabeth Line's Hanwell Station.
The scheme also includes 18 active electric charging points and 26 passive electric charging points, further future-proofing it to appeal to modern residents. The first block will be completed in the first quarter of 2023 and will deliver 33 affordable rent and 34 shared ownership homes.
David Burke, Technical Manager at A2Dominion, said: "This award for Boston Road reflects the high quality of workmanship, scheme management and commitment we have seen on the project.
"Both in terms of how Higgins Construction have managed site operations, and the collaboration between Higgins and our project delivery teams. This collaboration has built a positive and proactive working relationship that has translated to a very well-managed site."