Awards
Quaker Meeting House wins Environment Award at The Hammersmith Society's Annual Architectural Awards event
18 October 2021
There was success for A2Dominion at the recent Hammersmith Society Annual General Meeting as the new Hammersmith Quaker Meeting House was chosen by the Society for the Environment Award.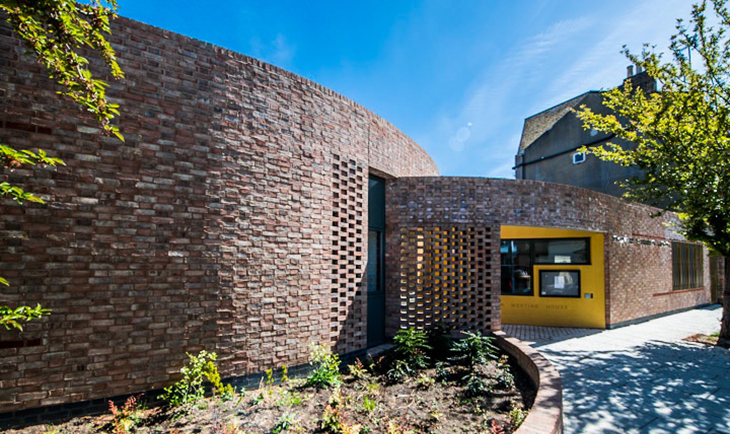 Quaker Meeting House
Delivered in partnership with Hammersmith & Fulham Council, the London Quaker Property Trust, and designed by architect Stewart Dodd, the Quaker Meeting House is part of the new
Hammersmith Civic Campus
– a development that will bring 204 new homes to the borough. Around half of these will be affordable housing. Contractors Syntec Projects and Silver EMS were also instrumental in making the Quaker Meeting House a building where environmental considerations are at the heart of the design.
Councillor PJ Murphy, Mayor of Hammersmith & Fulham, presented the awards at the event at the Riverside Room at Riverside Studios in Hammersmith, on Wednesday 29
th
September. He said he was "delighted" that the Quaker Meeting House was recognised as it's "something very close to our heart as a Council".
"We've worked really closely to reshape the realm… working with A2Dominion to support the creation of a new meeting house for the Quakers," he continued. "The new Civic Campus is going to be delightful and if it's anything like the outcome that's been worked through with the Quaker House, it's going to be absolutely fantastic."
The Hammersmith Civic Campus also
came out on top in the People's Choice category
at the New London Awards last December. Doreen Wright, Commercial Director (Programme and Compliance) at A2Dominion, said both awards "show the quality of the development as a whole".
"The Quaker Meeting House is a wonderful building that has a stylish, modern design while also giving the local Quakers a serene space in which to meet regularly," she continued.
"It's great to see this brilliant project getting the recognition it deserves, following on from the public showing their support for the wider Civic Campus development by voting for it to win the People's Choice Award last year. It's a project we're all very proud of, and we can't wait to see people move into the new affordable homes it will bring to the borough."
Victoria Timberlake, member of Hammersmith Quakers, added: "We are pleased with our beautiful new Quaker Meeting House, which we hope will be a beacon of environmental sustainability to the Hammersmith community.
"Our building reflects our values of simplicity, equality and peace. We are grateful to A2Dominion for enabling this building and to the London Borough of Hammersmith and Fulham for our site on Bradmore Park Road. We are especially pleased that our previous site will be used for truly affordable housing."